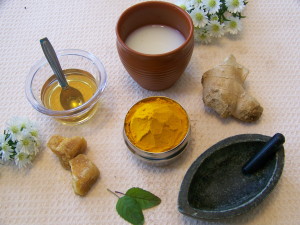 I am back after Thanksgiving break. Hope you all had a wonderful time with your family and friends. My daughter is back to her Gurukul and I am back to Mothers Gurukul. In my last post, I have tried to share some of the home remedies for cold and cough that gave me some good results. Since there is a considerable usage of herbs and spices we can find in our home, so lets talk about them.

     In the introductory post about Mothers Aushadhi 'http://mothersgurukul.com/what-is-mothers-aushadhi' , I have mentioned the word 'Dhanvantari'. He is the God of Medicines. If we peek into our Kitchen, then I would say everyone will find a Dhanvantari there. Our kitchen is full of such herbs and spices that can easily be used as a home remedy to some extent. Our health resides in our diet. What we eat, what we consume shape up our health. We often use Onion, Garlic, Lemon, and Curry Leaves in our (Indian) cooking. These are like the shields for our health.  Apart from these, there are few other herbs too.
Cumin (Jeera): Help in Digestion, Increase appetite.

Fenugreek (Methi): Reduce weight, Fast recovery after delivery, Increases milk production in lactating mothers, Relieves indigestion, Good source of iron (make sure to add tomatoes or potatoes to the preparations to enhance the iron absorption), Controls diabetes
Mustard (Sarson): Excellent for digestion, Relief from Stomach ache. Mustard oil is also used for Massaging (good protection against UV rays) for infants (strengthens their bones) as well as grownups.

Turmeric (Haldi): Purifies blood, Prevent Diabetes, Turmeric paste can be used as an antiseptic medicine for open wounds, Used to stop bleeding as a home remedy, Relief from Cough and Cold
Asafoetida (Hing): Increase appetite, Indigestion, Relief from stomach aches to kids.
Ginger (Adarakh): Cold, Eliminates Gastrointestinal distress

Black Pepper (Kali Mirch): Relief to the throat, Increase appetite, Improves Digestion.
Onion: White onion is rich in Ammonia. Onion smell helps in giddiness. It is said that keeping Onion in your hat or pocket can protect from Sun stroke.
Nutmeg (Jaiphal): Relief from diarrhea, Cold (Mix nutmeg with water, apply on the sides of forehead)
Curry Leaves: Good for eyesight (it has Vitamin A), Good for hair growth, Used in Diabetes control, Cure for gastrointestinal issues, Controls diarrhea.
Lemon: Good source of Vitamin C, Boosts immune system, Aids digestion.

     So, you can see that we have an abundance of natural goodness in our own pantry. All these points are a combination of my readings and prior knowledge. I am sure many of you must have lot more to say. So feel free to add your suggestions.