For this prompt Letter to self (younger/older), I literally had to scratch my head. I was juggling between which side to go – younger or older. We are so used to of planning for future that writing to older me looked easy but after few lines, I was blank. So, now I am writing to that Alpana who I left behind many years ago. Right now I am remembering the song Chocolate Limejuice …from the movie HAHK. I didn't realize when I had changed so much. But the truth is, I wish to have a second childhood. So, why not to re-live those days through a letter? Let's see if that Alpana is still the same? I hope she is (with few required changes)?
I'm thrilled to be participating in a five day 'LOL-a-thon' organised by 'The Momsteins'. Join us to read some wonderful letters written by 25 cool bloggers. Stay around to read some amazing letters coming up.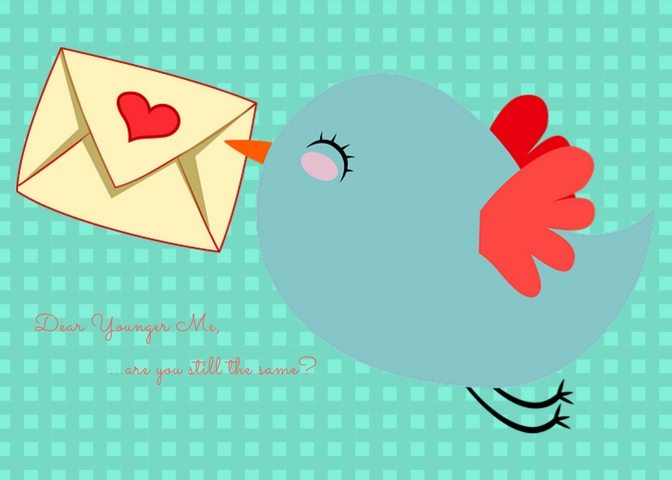 Hey Alpana….
…..younger me
How are you doing girl? Are you still your Mamma's girl?  Do you still have those long braids or you have chopped your hair? I remember your grandpa never was in favor of short hair especially when the hair quality is good. I remember, you and cousins used to meet during summer break and you were the (I know you won't agree to this) nautiest among all. Are you still the same or have changed a bit? But one thing that I liked in you was you were a balance of both. Even if you were naughty but you had that soft corner too. What do you want to talk first?
Let's talk about your soft side first. How you used to feel bad for the very old people who used to sell cilantro or green chili and whenever you would go for grocery with your mom and dad, you always wanted to buy the cilantro and chili from them only. Many times, you had asked your mom to get both the things twice or even thrice just because that particular old uncle asked, "Dhania chaiye beta? (do you want cilantro)". Do you go and buy from them? How you used to give your favorite Britannia Fruit Cake or Bourbon biscuits to any small kid on the railway platform. Do you still do that? How you would never say if you are upset about something just because you didn't want others to get upset about it. Are you still the same or you have opened up a bit? I hope you will say yes to this.
Alright..Mam, so now coming to your naughty side..
Do you remember, you took the air out of your classmate's cycle because you had a discussion with him and he didn't talk properly to you. But again, not leaving your soft corner, you didn't puncture the tire, just took the air out thinking that how he will go back home with a punctured tire?  And yes…how can I forget this? Once you and your cousin emptied the who box of talc just to make the room fragrant and later when it got too slippery, you started to wipe it with water and broom (seriously??water and broom??) But no luck..whatever was done, was done. And this one During summer break, how you used to put the ice cubes inside your cousin's t-shirt to wake him up. After doing all this and you say you weren't naughty? 
Over these many years, you were somewhere there inside me but after taking up so many new roles – wife, daughter-in-law, sister-in-law and the most challenging yet beautiful role mommy, I have lost the touch of the younger Me. But today by writing this letter, I am feeling so good. In fact, this whole series of letters is just awesome. By the way, before I say bye, let me tell you few things. Sorry but now when I am a mom, I can't leave without giving any instructions.
Please don't be so emotional. It's good to be sensitive towards other's feelings but you shouldn't stress yourself.
Try opening up more. I have tried that in these many years and believe me sometimes, you have to speak out your feelings loud to let others know about it. Everyone is not a mind reader like you dear.
It's okay if things don't go perfect. Don't be hard on yourself.
Never loose the naughty side of your personality and be yourself.
Bye for now,
With lots of hugs and kisses,
Older Me
Previous posts from this letter series
Letter to My Sweet Angels Who Are My Sunshine