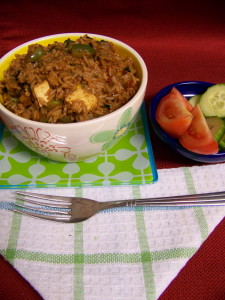 I haven't planned anything to post today. After my daughter left for school, I headed for my morning walk. It was cooooold..But since I was already started so thought of not coming back. I love Fog. It gives me, I don't know why, some sort of happiness. I grew up in IIT Campus, Kanpur. Winters are chilly there. No snow but chilly winds, dense fog. When I was in College, many times I have missed my bus because of fog…:) It had its own charm. Today's morning was kind of foggy (not as Kanpur fog..but ya…it was okay) I couldn't stop myself from taking pictures…:)
      I completed my walk and after coming back,wanted to have something warm… Also, I had to pack lunch for my hubby. There was some leftover Rice in my fridge. So made this. Since I wasn't prepared for writing today so I am giving the approx. measures of  the ingredients. Sorry about that. Later it got better but since I made it so took some pictures before finishing it up..:)
Cooked Rice –  1 1/2 cups
Oil – 2 tablespoons
Ginger-Green Chilli-Garlic paste- 1/2 teaspoon
Green Bell Pepper- 1/2 cut in square pieces
Tomato – 1/2 cut in square pieces
Onion – Less than 1/2 if onion is big, cut in square pieces
Broccoli florets – 1/4 cup
Chick peas – 1/4 cup or less than that. (I had one already opened Can so used that too)
Paneer pieces – 1/4 cup
Soy Sauce- 1 tablespoon+1/2 teaspoon
Chilly Sauce – 1 tablespoon
Tomato Sauce- I squeezed it out directly from bottle so I am guessing it might be 1 tablespoon+1/2 teaspoon
Salt – to taste
Black Pepper – 1/4 teaspoon
And I made it:
In a skillet or wok, heat the oil on medium heat. Add Ginger-Green Chilli-Garlic paste, to it add all the veggies, paneer. Stir-fry them. Do not overcook. We want the veggies to be crunchy.
Add Soy sauce, Chilli sauce and Tomato sauce. Add Salt, Black pepper. Mix it.
Add cooked rice. Mix it. Turn off the heat.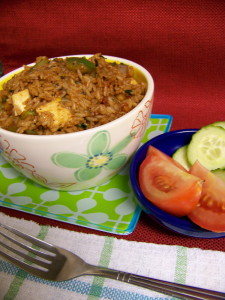 ENJOY!!