There are few dishes that steals our heart and we like it so much that we want to try it on our own. Something similar happened with me when I tried these Veggie Kabab Rolls. During my Kanpur stay, I heard about these Veggie Kabab Rolls so much that I had to try them. And now I am thinking why I tried them so late when only few days were left for my Kanpur stay. They were so yumm…yet very simple. Accompanied with Vegetable Biryani, it made a complete meal. Now when I am back to Houston, I keep thinking about those Kabab Rolls. And the good part is the Kababs are made with Soya Beans. You can use Flour tortillas or make your own version by using Paratha. Have some chopped Onion, Green chutney. And that's it, you are good to go.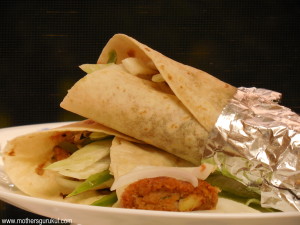 For Kababs:
Potato – 1 large, boiled and mashed
Pav bhaji masala – 1 tablespoon (adjust as per your taste)
Garlic powder or crushed garlic – 2 cloves, approx.
Breadcrumbs – 1/2 cup, approx. (used for binding)
Green chutney (cilantro chutney or cilantro-mint chutney)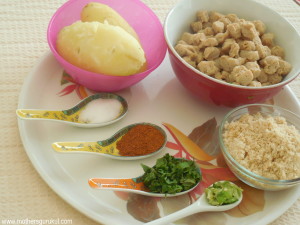 Soak soya beans in boiling water, drain the water out of soya beans and transfer it to mixer/food processor, give one pulse. Add mashed potato, pav bhaji masala. If you want to add veggies then sauté them first and then add to potato and soya bean mixture. Add breadcrumbs as well.
Make small cutlets (tikkis) and shallow fry them. Your veggie kababs are ready.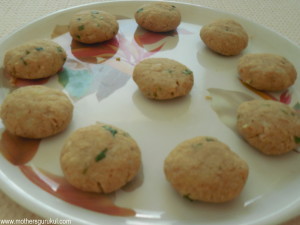 Spread some green chutney at the bottom of the tortilla/paratha. Place kabab then mash and spread it directly on the tortilla. Spread chutney again if you want.
Put some sliced onion. Now roll it and enjoy. If you want sweet and sour taste then add both the chutneys on the tortilla. If you want, you can add other veggies too. I added Bell pepper and lettuce.
Along with these kababs, we had vegetable biryani with raita. And that completed our dinner plate.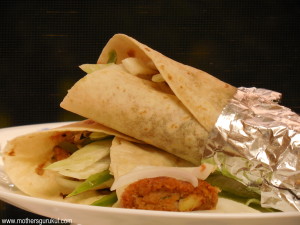 Try it out!!