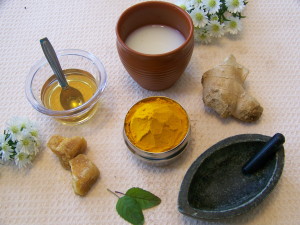 Lets start the Mother's Aushadhi section with home remedies for Cold and Cough. With Ayurved/ home remedies, do not expect to see the result overnight. It takes time but yes, they do not have any side effects.
     Cold and Cough is the most common thing kids go through with seasonal change. My daughter catches cold quite easily with seasonal changes. Whenever I see any such symptoms, I first start with these remedies. And touch wood, I don't have to give her antibiotics. When she was very young, that time also, I hardly gave her antibiotics. Especially, before they turn ONE, you cannot give them medicines. That time these remedies are very useful. In most of them, you will see that Turmeric is the key ingredient. Referred as the Queen of Spices, Turmeric is the principal herb in Ayurveda. We will discuss more about these herbs in another post. Most probably, I will write my next post on the herbs since many of the names are quite different.
    I am sharing few of them that worked (and still works) for me. They have given me good results so far. It is totally up to you if you want to try them or you want to continue with your current method. Bottom line is whatever suits your child, continue with that.


For Cough:
Turmeric powder (Haldi)+Salt, mix it with Luke warm water.
Turmeric powder+Clarified butter (Ghee)+Jaggery (Gur)+Dry ginger powder (Sauth), mix everything together and make small balls.
Turmeric powder+Warm Milk.
Dry roasted Ginger+Honey, mix it together and simply lick it. (For Dry Cough)
Saltwater gargle, Lukewarm water+Salt, temporarily relives sore throat. (Just remember to spit the water out after gargling, rather than swallowing!)
1 teaspoon Coriander seeds+ 10-12 leaves of Basil (Tulsi)+ 1 leaf of Lemon Grass (Gavati Chaha),+2 Cloves+ 3-4 Black Pepper (whole),+1/2″ Ginger+ Sugar to taste (if adding milk), mix everything together and boil in 2 cups of Water. Reduce it to one cup. Drink it when warm. If you want to add milk then add very little. Else, replace sugar with salt.
Remedies for Infants and young one's:
     At this age they are not able to express. Also, when they get congested, they don't know how to take it out.
Carom seeds (Ajwain)+Black Salt,Heat it. Tie it in a small bag. Apply mustard oil on the chest and gently rub this bag. It loosens up their cough and makes them feel better.
Mustard oil+Crushed garlic (let it release its juices and get mixed with oil), heat it. Apply to the bottom of the foot and also to the sides of forehead.
Sweet flag powder (Vekhand)+Luke warm water, mix it. Make a paste. Directly hold the spoon on stove top. Apply on chest and to the sides of forehead. If you can find Vekhand, then great. For Infants, this works. I am telling from my own experience.
    That's it for today. These are the remedies that I use for cough and cold and I had a good experience using them. Hope they will work for you too.