Recently, I successfully completed my traveling project. It was a total 21 hours journey from Houston to Delhi with two kiddos – 1year old and 8 years. First flight was 12 hours and next 6 hours with a layover of 3 hours. Whenever you travel by air, there are lots of things you have to plan and think about especially the weight limit of liquids you are carrying. They say you get everything on the plane so why to carry extra stuff. But when you are traveling with a baby, you don't know what time you will need what?
This wasn't the first time I have traveled alone or with a kid but when I flew to India with my daughter, she was 1.5 years old and she had passed over many things like baby food, formula. She was walking ( a very big plus). I packed my check-in as I do always, traveling light is my mantra. But for carry-on, I had to plan. So, here are few pointers which have helped me. And I am sharing with you all for your future travel with your baby.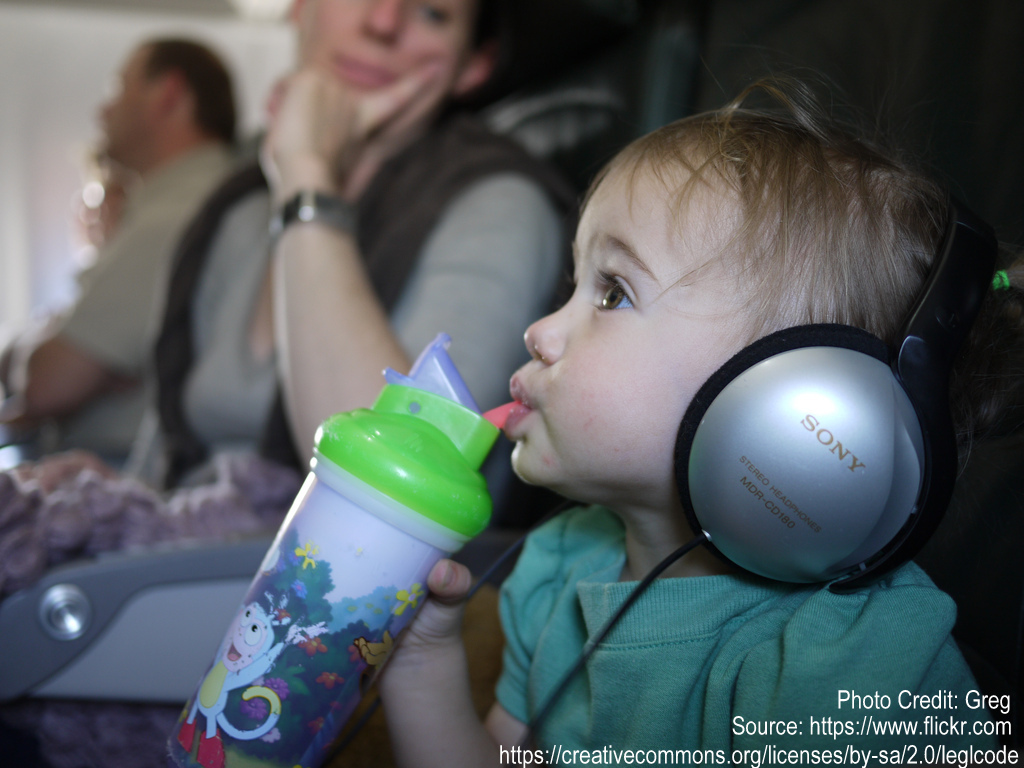 If your baby is breastfed or already shifted to regular milk, then the formula part is excluded but if your baby drinks formula then following point will be helpful to you.
-The limit of carrying 3.5oz liquid does not apply to any baby food or baby formula. It's better to carry the disposable formula bottles. The space is not a lot for you to fill the bottle first then mix the formula. Disposable bottles come handy. You can carry baby food too. Don't be depended upon the food you get in the flight. Every baby has their own choice. So, better to have what they like. I carried few food containers and cornflakes in powdered form and just mixed it with formula and water.
–Carry few extra bottles and bottle liners. It is a good idea to have 2-3 bottles to avoid cleaning part every time you feed the baby. If you can find liners, then your job will be even more easy. Pack formula and water separately. Even though you get water in the fight but airlines allow if you want to carry water for the formula. I carried 3 bottles. And had no issues. Security will ask you to go through one additional step of screening. Worst case you will have to throw it away.
Pack one diaper for 3 hours. I used pull-ups during flight. It saves time in the changing process in that limited space. Keep the wipes handy in a small tub pack in the diaper bag. You can pack the big pack of wipes in the carry-on bag.
Carry disposable scented trash bags and changing mat.
Changes of clothes are recommended for baby and you, as well as plastic bags to put them in.
Pack the emergency medicines in a separate transparent bag. I prefer using the sealed bottle from the leakage or security point of view.
Going through the security:
-Declare whatever you are carrying for the baby. Formulas, baby food, juices, water everything. If you pack them in transparent bags, it's easy for the officer to screen them. They might do the dropper test on the water. For baby food, do not remove the outside pack with has the weight of the container on it. If you pack things properly, it saves your time and less hassle for both you and the officer. You don't want to start your journey in a panic state. Once that is done, to me, your one main part is done.
OMG what about the ear pressure inside the plane?:
Out of few things that make every parent stressed out is the ear pressure during take-off and landing. Every time, I traveled with my daughter when she was young, she would finish all her water before the take-off but then I figured out that she is usually fine during take-off. For her little bit of ear pressure builds while landing. It is advisable to keep chewing something. For babies, you can try giving them sipper or bottle or may be pacifier. Anything they can suck. Lollipops also work well. Surprisingly, my son did great. He had no issues while take off or landing. But sill I gave him pacifier. Since he was teething, he loved biting. 🙂 
Does too much of planning help?:
Every person is different. In general I like to be prepared well in advance but when it comes to traveling with a baby, everything you cannot predict. And if you plan too much then even a slight change in your plan might disturb you. So, plan ahead, pack with enough time in hand, don't pack too much, and be flexible. Enjoy our travel. Here is a checklist for you.
Checklist for what to pack:
#Medicines in a bag
#Changing clothes
#Pajama
#Blanket
#Diaper or pull-ups
#Baby wipes (in diaper bag and rest in carry-on)
#Disinfectant wipes
#Pacifier (if your baby takes that)
#Sippy cup
#Milk bottles (better to have 4 at least)
#Formula (enough for your baby. count the lay over hours too)
#Baby food (packed in transparent pouch)
#Snacks
#Toys, books
You'll be busy. You will have your hands full. You will be very tired at the end of your journey. But you will have such wonderful memories of your travels with baby that the fear of flying with an infant will seem inconsequential. Your baby will not remember these journeys, but you will never forget them. Trust me. I still remember my daughter's first air travel. And now my son's too..