Today at Mom with her story, I am not talking about any other mom. It's me who will be sharing her story with you. I came to this country on H4 Visa status like many other H4 spouses. I kept on hearing from people about H4 Visa limitations. But through this post, 'H4 Visa – Your perspective is what matters',  I want to show you a different angle. Hope you will try to see it differently as I did. After all, Your perspective is what matters….
When I came to this country, I was sailing in the same boat as many other H4 spouses.  I too had undergone the emotional roller-coaster whenever I would think about all the visa limitations. So, what exactly is the H4 Visa & what are these limitations? H4 Visa is the dependent Visa on H1B. The holders of this Visa do not have a Social Security number & they are not permitted to work in USA. Accepting the fact that you will not be able to work for an indefinite period of time is quite hard. Isn't?  I will not say that I had tons of options to pick from. But, yes I had something that no one can take away from me – my hobbies. I would say this is the time to try something new, find new roots and new identity. Let's see if we can turn around this otherwise difficult situation in our favor.
Whenever we talk about H4 Visa, the first thing that strikes is OMG I won't be able to work, what will I do then?, all my education is a waste. First few months goes by in a bliss enjoying the new lifestyle, surroundings, and friends. But with all this, boredom also starts showing its presence when hubby is at work and you don't have that many friends to talk to. You tend to sooth yourselves saying that life is different here; managing house all by yourself is tough etc. But somewhere it doesn't give you the feeling of contentment. I agree staying positive all the time is not as easy as it sounds. But I would say it's your perspective that can change the way you look to this situation.

 As Willie Nelson has said, "Once you replace negative thoughts with positive ones, you will start having positive results."  Not having a work permit gave me a new direction to think about something that was more of a pastime before. I always had an inclination towards writing but never took it seriously. After the settling down period, I started volunteering and also got back to my hobby of writing. I used to write on small topics, travelogues etc.  But once I started my Motherhood journey, I got a new area to explore – parenting. Being a new mom, I was away from writing for a while but not away from books. When the time came to teach our daughter our Mother Tongue, which was the time when I wrote my first parenting article for Austin Local Newsletter on teaching kids our Mother Tongue. And since then I continued writing without any break.
It was my husband's idea and his confidence in me that I should think about writing more seriously and taking it to the next level through my own platform.  I would admit I didn't have to work hard for deciding a suitable name as one of my best friends suggested "Mothers Gurukul" and I instantly liked it. And that's how "Mothers Gurukul" came into existence. It's been two years now and I have thoroughly enjoyed this phase. Being a non-IT person, website maintaining initially seemed tough to me but as I started digging into it, I enjoyed it. I feel, every day I can intellectually grow learning new things. I set targets & challenge myself as I move on. I won't say that I have accomplished whatever I have aimed for but today, I can happily say that I didn't let my Visa restriction to come in my way of exploring a new direction.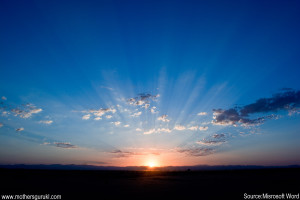 This post is not to convince that H4 is a blessing.  I totally understand how it feels to be on a Dependent Visa. These are the thoughts of a fellow wife/friend for all those wives who think that not having a work permit is the end of their desires; career or it's a waste of their education. It can be a new beginning; a door towards expanding horizon. It is also applicable on those who cannot work due to any other reasons.  Spread your wings, try new things, it helps in channelizing positive energy; connect with others; learn from them. And never quit on passion for life.
Always remember "Positive anything is better than Negative nothing. – Elbert Hubbard".
Good Luck!!