Now a days, I am totally obsessed with mod podge. I never thought before how much we can do with mod podge. But now, when I tried it couple of times, I can say it was worth giving it a try. As many of you know that I have a 7 months old baby. Now when he has started eating baby food which means lots of baby food jars. With my daughter, I never thought about doing something crafty with these jars. I used them to store dry spices. But this time, I decided to do something else like decorative jars.. So, I picked a bottle of Mod Podge and Puffy Paint from my craft store. I had food color at home. Puffy Paint can be substituted with acrylic color. I wanted to decorate it with paint brush and acrylic paint because the surface is not flat and I can do much better with a brush than directly making the designs with bottle. But since I do not get that long breaks to spend a good amount of time on my craft projects, I decided to go with puffy paint. After trying few small jars, I got little bit of control on it.  But still, there is scope of improvement. Next time I am going to do it with brush.
I found this project so relaxing and it was quick. After the baby food jars, I did the same with the tall jars(you can see, for this I used pasta sauce bottles). This was my first time, I used whatever I had at home. But I liked this craft so much that now I will get proper glass jars/vases for my next project. You can call it recycled jars too. When my daughter saw them, she said wow Aai, you recycled the glass jars…good job..:) So, this could be an option for your kid's recycle project. But I would like to call it decorative jars..:)
This is a great project for lazy days, or school breaks. Depending upon your kid's age, you can decided how you want to decorate them. For young kids sticking laces or decorating with gems, colored crystals could be better.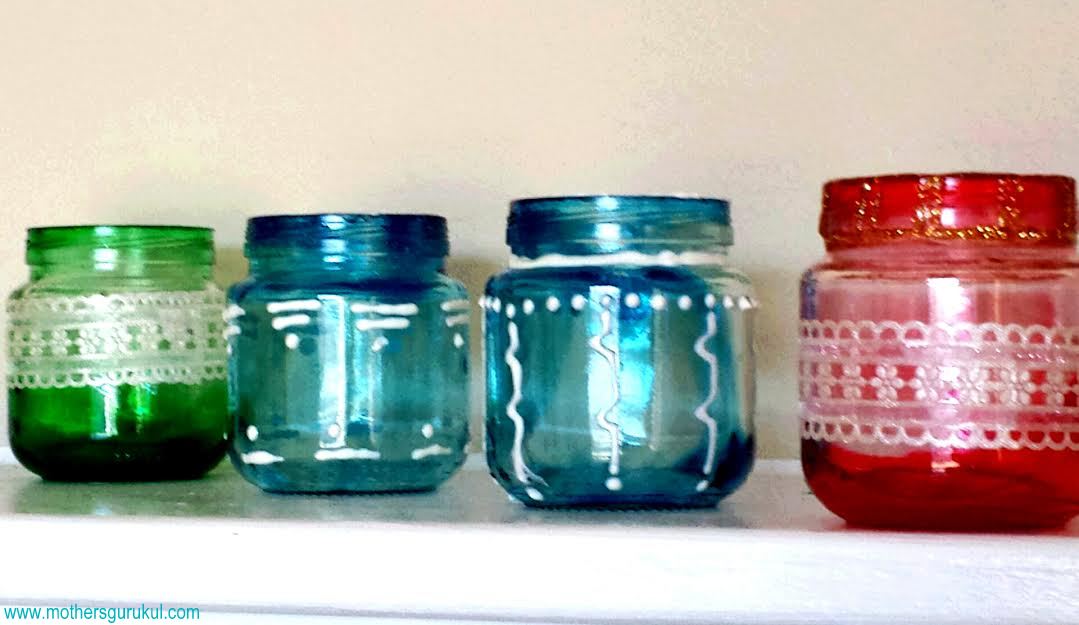 So, let's turn ordinary food jars into decorative jars…
Here is how I made these:
You will need:
Puffy Paint or Acrylic paint
Disposable cup or glass (for mixing)
Lets make these:
First remove the label from the jars. For this fill your sink or bucket with hot water. Add a good amount of dish soup, may be about little less the 1/2 cup. And let the jars sit in the hot water and leave it to soak. After some time (wait till the water start to get cold), the label will slid off or you can remove it. Give the bottle a quick rinse, dry it off.
Depending upon the size of your jar, mix mod podge and food color into the cup (take few spoons at first). I played around a bit until I got my desired color. Mix it really well.
At this point you have two options:
Option 1: Pour the mixture into the jar. Now, start tilting the jar the way you do while greasing the baking pan with flour for baking cake. This will coat the inside walls with the paint.
Option 2: Instead of pouring the mixture in the jar, you can paint the inside with the paint brush. Don't worry about the brush stokes – they will not be visible later. (the small Blue jars are painted with paint brush). The drying time with this option will be faster compared to the former.
Once the entire jar is coated with the paint, keep it upside down on a flat surface. Let it sit there until the excess paint comes down. The jar will look pretty dark and not translucent at all when it's still wet. But as it dries, it will turn more translucent.
Now, turn the jars right side up so they can dry from inside.
Once they are completely dried, you can use them whichever way you want to but not for storing food items or liquid.
I preferred painting them. Also, I tried decorating with colored crystals and lace. Options are plenty.
Use your creativity and enjoy this relaxing craft.