I first heard about Dead Sea Minerals when I purchased Dead Sea Magnesium Massaging Oil some time back. Dead Sea Minerals are like gold for our body. The Dead Sea contains 26 essential minerals, twelve of the Dead Sea minerals do not exist in any other sea or ocean in the world. One of the natural wonders of the world is the Dead Sea(also known as the Salt Sea, is a salt lake) which is 1,200 feet below sea level.
Many people visit the Dead Sea to gain therapeutic and rejuvenation experiences.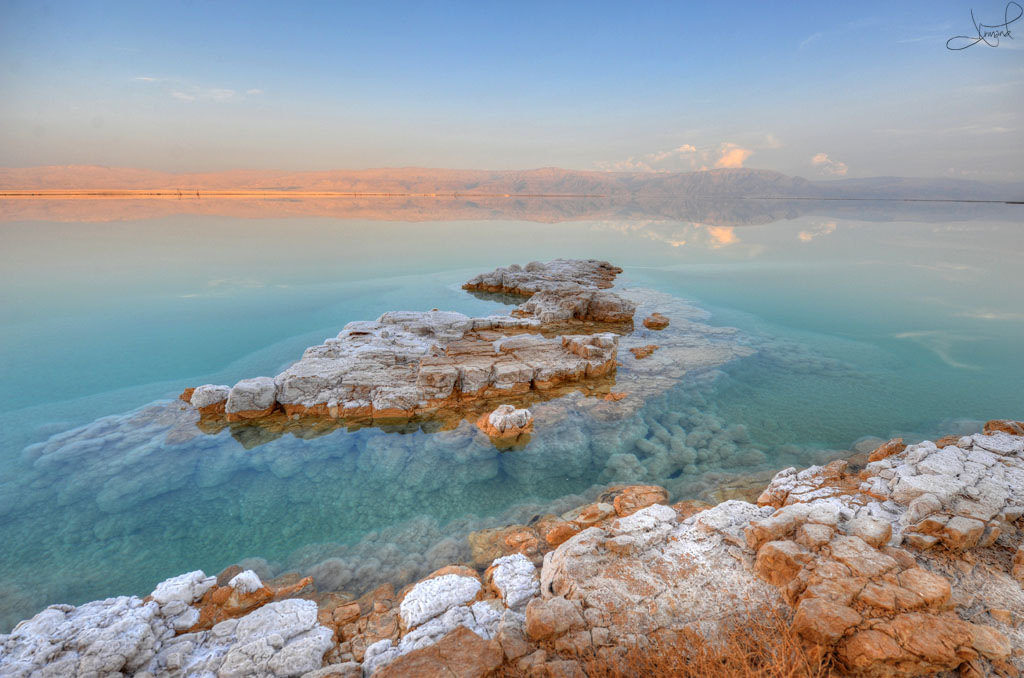 But not all are lucky to go there. 🙂 Dead Sea minerals products can be a good alternative. I call myself among those lucky ones who got to experience the Dead Sea Minerals benefits from the products offered by La Cure. Started with just two products, La Cure today has expanded to offering around 30 products.  La Cure is natural beauty brand and the products by them  made from minerals directly extracted from the most saline lake in the world the Dead Sea.
About the brand La Cure: as told by Nour AL-Refai, Managing Partner, Jordon Co. for Dead Sea Products 
The founder Mohammed Al-Refai saw a great opportunity in this treasure, and the idea to establish a brand to deliver Dead Sea Products worldwide for those who cannot visit the Dead Sea came alive. With efforts invested by Mr. Al-Refai with the help of local and international friends who grouped together to put this idea into action, La Cure was created. The name was inspired by a German friend who suggested the name "La Cure" which represents healing, beauty, health, and cure.
When I told Nour AL- Refai about my skin type and my daily skin routine which includes moisturizer at night and sunscreen throughout the day, she suggested me to go for Mud Mask, Cooling Body Lotion, Day Cream, Mud Soap. I have been using these products from last 3 weeks and today, I am going to take you through my experience with Dead Sea Mineral products from La Cure. Let's talk about each one of them.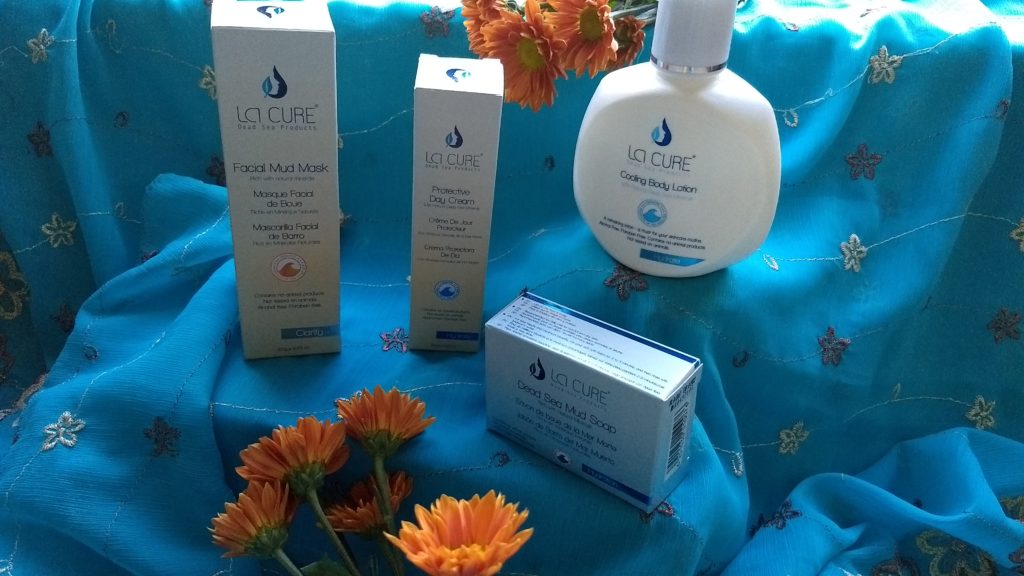 Goodness 1: Day Cream: I started my Dead Sea Minerals beauty routine with Day Cream. Usually, I apply sunscreen but after starting to use the La Cure Day Cream,whenever I wasn't going out, I used Day Cream. The cream feel little sticky while applying but it won't make your skin feel sticky. Your skin will immediately absorb  all the goodness and become smooth. With this changing weather, my skin is softer and smoother.
Ingredients:
Dead Sea Mineral, Vitamin E, Jojoba Oil
Usage:
Daily use for face and neck.
For best result, it is recommended to clean your face and neck with La Cure Salt Soap before applying La Cure Day Cream.
What I liked in it?:
You need a less amount and spread pretty nicely.
For those who don't like strong smell in their creams, the Day Cream is a perfect choice. Initially, I didn't smell anything at all. But it has a very light smell.
It kept my skin hydrated and moisturized for a longer period.
What I didn't like?:
It is slightly thick so during the days when it is hot, I felt sweaty for a while after applying it. I would like it more during cold or not so warm days.
My experience: I liked the Day Cream. My skin became much smoother. Now a days, I am not applying anything else other than this cream. It helps to restore moisture in the skin. I found a visible difference in my skin. It purifies and nourishes the skin. I would highly recommend the La cure Day Cream for daily use. It help in keeping your skin hydrated throughout the day. 
Goodness 2: Cooling Body Lotion: Alike Day Cream, Cooling Body Lotion also gave me promising results. As per the directions, I am using it after the shower. Compared to Day Cream, Body Lotion is slightly lighter. It spreads evenly and a very less quantity is required. I am using it twice a day -morning and night after shower. And I could feel the softness and a thin coat of the lotion even after I wake up in the morning.
Ingredients:
Dead Sea Minerals, Vitamin E
Usage: For best results, gently massage the lotion over the body morning and night, after showering or bathing.
What I liked in it?:
It is light.
Its not sticky.
My skin feels soft immediately.
Spread easily.
Skin feels moisturized for a longer period.
What I didn't like in it?:
My experience: I am very happy using Cooling Body Lotion. The quantity will last for quite a few days. My skin texture has improved a lot. I would definitely recommend La Cure Cooling Body Lotion to be included in your daily moisturizing routine.
Goodness 3: Mud Mask:  I applied the Mud mask for two weeks, twice per week. It cleanses the skin deeply, clear the pores and removes the dead skin. Skin feels so fresh after washing the face. Honey in the mud mask helps dry skin to moisturize well. Skin looks young and it feels soft.
Ingredients: 
Dead Sea Black Mud containing a rich blend of beneficial minerals mixed with honey and natural oils.
Usage:
Shake the tube well before use.
Clean your face with La Cure Salt Soap, then splash it with warm water and then apply La Cure Mud Mask avoiding eyes area.
Leave the mask for 5-10 minutes on dry skin, 10-15 minutes on normal skin, and 20-30 minutes on oily skin, then rinse with lukewarm water.
La Cure Moisturizing Cream is recommended after removing the mud.
Use it 2-3 times a month for best results and maximum.
What I liked in it?:
The application is easy. You can apply it directly by squeezing out from the tube.
Spreads easily.
Dries off quickly.
What I didn't like?:
Color of the mask: But considering it is mud mask, I will overlook this point. On a lighter note, Don't apply it in font of young kids.
My experience: I could see the effect in first application. For desired results, it is recommended to use t 2-3 times a month. 
Goodness 4: Mud Soap: Mud Soup has a very subtle earthy smell. It doesn't make your skin dry.  It detoxifies and exfoliates the skin. It removes dead skin cells. 
Ingredients:
Natural Oil blended with Dead Sea Mud.
Usage:
Recommended for Oily and Normal skin.
Regular use for face, hands and body.
For best results and maximum benefits, leave on your skin for 2-3 minutes, then rinse with lukewarm water.
What I liked in it?:
Its early smell.
Doesn't make your skin dry.
Free from detergents and animal fat.
What I didn't like:
My experience: I loved this product. 
My final words for the brand La Cure:
La Cure is one promising brand that I came across and I am very much satisfied with the results.  All the products are Paraben free, Alcohol-free and contains no animal products. By making Dead Sea Minerals products, they have made our job easy for experiencing the goodness of Dead Sea.
I would like to thank La Cure  for sending me the products and allowing to write the review. They have been very cooperative throughout the process. To know more about the brand and its products please visit La Cure.
If you want to read more about Dead Sea, please check out my friend and mommy blogger's page.
Disclaimer: This is not  sponsored post. I received the products and this is my personal experience after using have written the review after using them for 3 weeks.
I am taking part in The Write Tribe Problogger October 2017 Blogging Challenge
#writebravely #writetribeproblogger