"It takes so much time in feeding babies. Not only they lose patience but we also give up after so many trials and the baby is not ready to eat. It's too much of a hassle. I have not even counted the traveling days yet. Husshhhh..carrying bowl, spoon, boxes, bibs and then making the baby sit and eat. And if baby is not in a mood to eat then how to store the left-over food? Thank God, Boon Squirt Spoon Bottle came as a recue to me."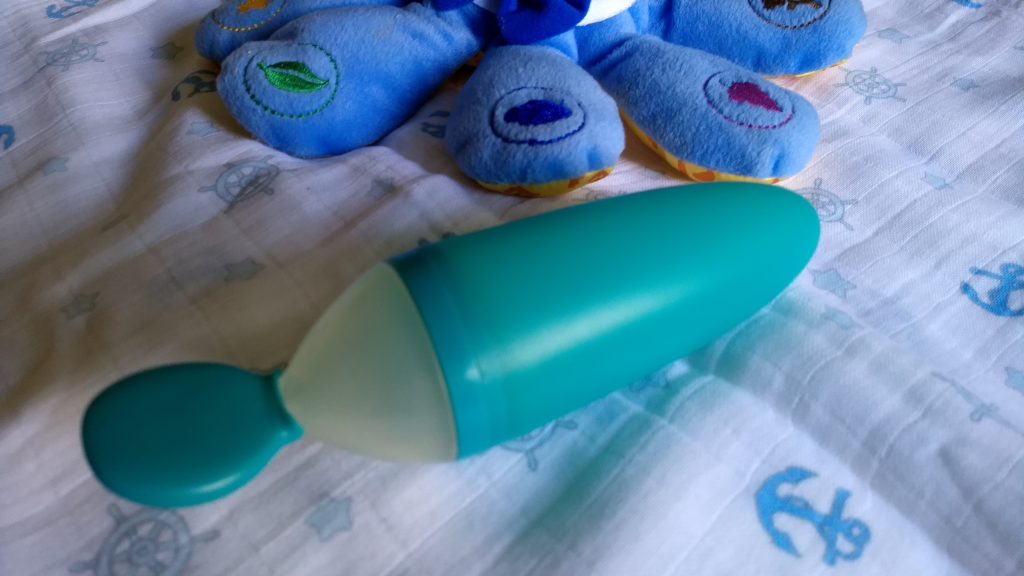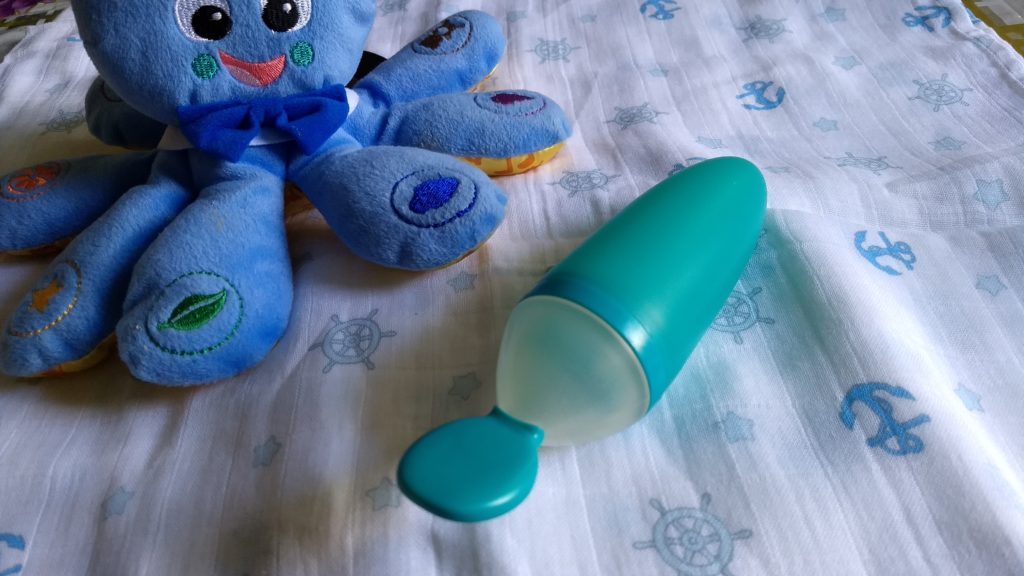 These are not just words to start today's post but these are struggle of most of the moms who have introduced solids to their babies. Until few months ago, I didn't even know about this squirt spoon bottle. To be frank, I never heard about it. When I started solids for my daughter, I used the traditional way of bowl and spoon. Luckily, she was a good girl and never fussed. Feeding times were never nightmares to me. I was also having extra minutes in hand that time but with my second one, those extra minutes are gone. Parents of two kids would agree that days are different with two kids. Luckily, my little one is also cooperative in his eating routine.
For the icing on the cake, I was introduced to this Squirt Spoon Bottle by one of my friends whose kids are now in elementary school but she used it for both her kids. When she mentioned about Squirt Spoon Bottle, and its benefits I was curious to see how it looks. When I saw the design and the small video, I was pretty much convinced and made up my mind to order it. There are many other brands but I got mine from Boon. I wasn't sure if I can find it at stores so I ordered it through Amazon.
My son is now 14 months and he comfortably eats with spoon but I totally fallen in love with this Boon Squirt Spoon Bottle and I must say all the new-moms should make this purchase. It's totally worth it. Now I am thinking why I didn't know about it with my daughter?
Many of my friends saw me using this for my son and I recommended this to them as well. Alike me, they are also very happy with the product. So, here I am with my own experience with Boon Squirt Spoon Bottle which is truly a boon for all new moms.
Features:
Dispenses baby food one bit at a time
Convenient one-handed feeding
Includes cap for storage
Large easy-to-clean bulb holds up to 3 oz of baby food
Great for on-the-go
Dishwasher-safe
BpA-free, Phthalate-free and PVC-free
Recommended age: 4+ months- 3 years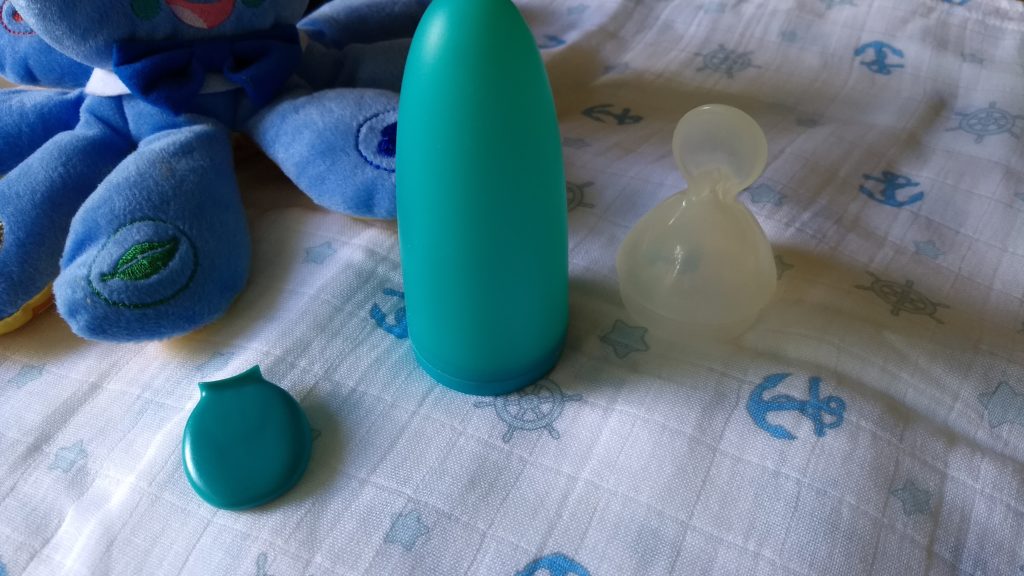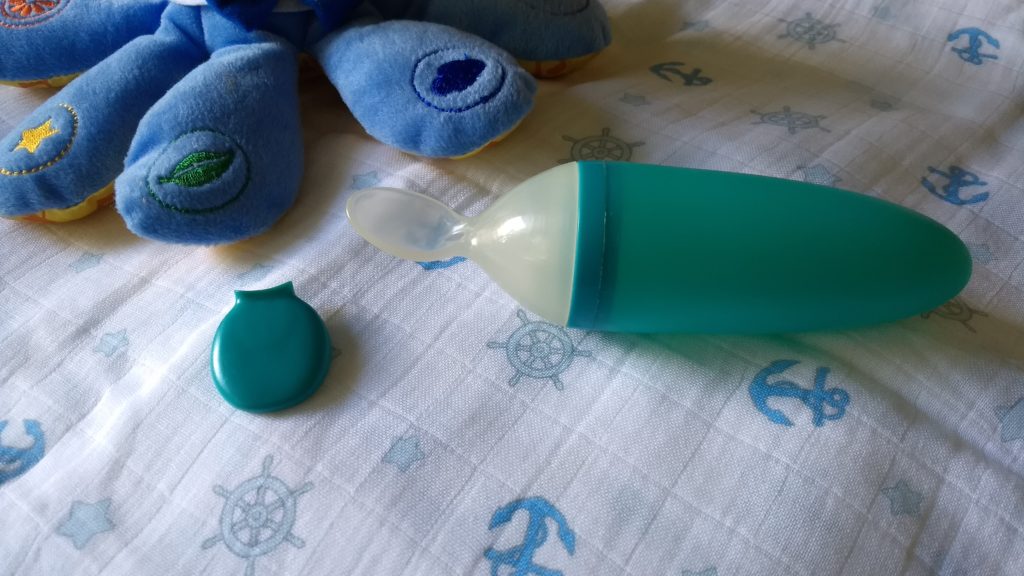 Things I liked in this spoon bottle:
It's perfect for the baby's mouth size. The shape is not too big.
Mess-free: Once you take the bottle close to your baby's mouth, then you squirt the food. So no mess of falling and cleaning.
Easy cleaning: You can open it just like opening any other bottle. It is dishwasher safe.
Easy handling: It comes with a lid which covers the spoon part. So once the baby is full and there is still some food left over, just put the lid on and pack it in the diaper bag.
Things that I wished to have:
Different size: Currently the size that is available hold approximately 4 oz. For little older kids, little bigger bottle would work better.
Not ideal for watery food: Food that is in paste form but not too thick, is perfect for this bottle as the opening is very small.
Other than these two things, Boon Squirt Spoon Bottle is truly a boon for new moms or say for all the parents to ease the feeding routine. Next time, when you are going out, don't pack too much. Just grab a toy, sipper and squirt spoon bottle. You are good to go!!
If you are looking for a gift idea for any new mom, then Squirt Spoon Bottle is perfect. Believe they will be glad to have this.  
I hope my review has helped you on deciding whether to buy squirt bottle or not.
This is not a sponsored post. These are my personal views after using this product.