We all wish for baby soft skin and soft and silky hair as shown in advertisements. But when weather and also age plays its role, these seems like dream. Our skin and hair too need that pampering to keep them healthy. Now a days, with so many products in market loaded with chemicals no matters whatever promises they make but the fact is you do not get the desire results. In such time, something natural is becoming every women's first choice. AngTatva is one such brand which offers 100% natural cosmetics to its customers.
About the brand Ang tatva: as told my Misha, founder of this brand.
"Angtatva was started with a vision of providing people with homemade natural skin care products. Ayurveda is known to have potent medical and beautifying properties having long lasting effects on our skin.The brand strives to use best combination of ingredients and create a range of products which is luxurious yet gentle."
When I heard about AngTatva and it's product range and more important that it is 100% natural, I wanted to try it. I contacted Misha, founder of the brand AngTatva ,if she can send me the face pack and hair mask. WhenI used it and saw the results, I was keen to review the products. I was super excited as this was my first product review. I liked the name – "Ang-Tatva", which gives me a feeling of using something natural.
Whenever there is a review to be done, professional attitude counts a lot. Since, I had travel plans during summer, Misha took good care of my traveling dates and delivered me the package well in time. I was touched to see my name on the sticker wrapped around the jars. That was so sweet of her.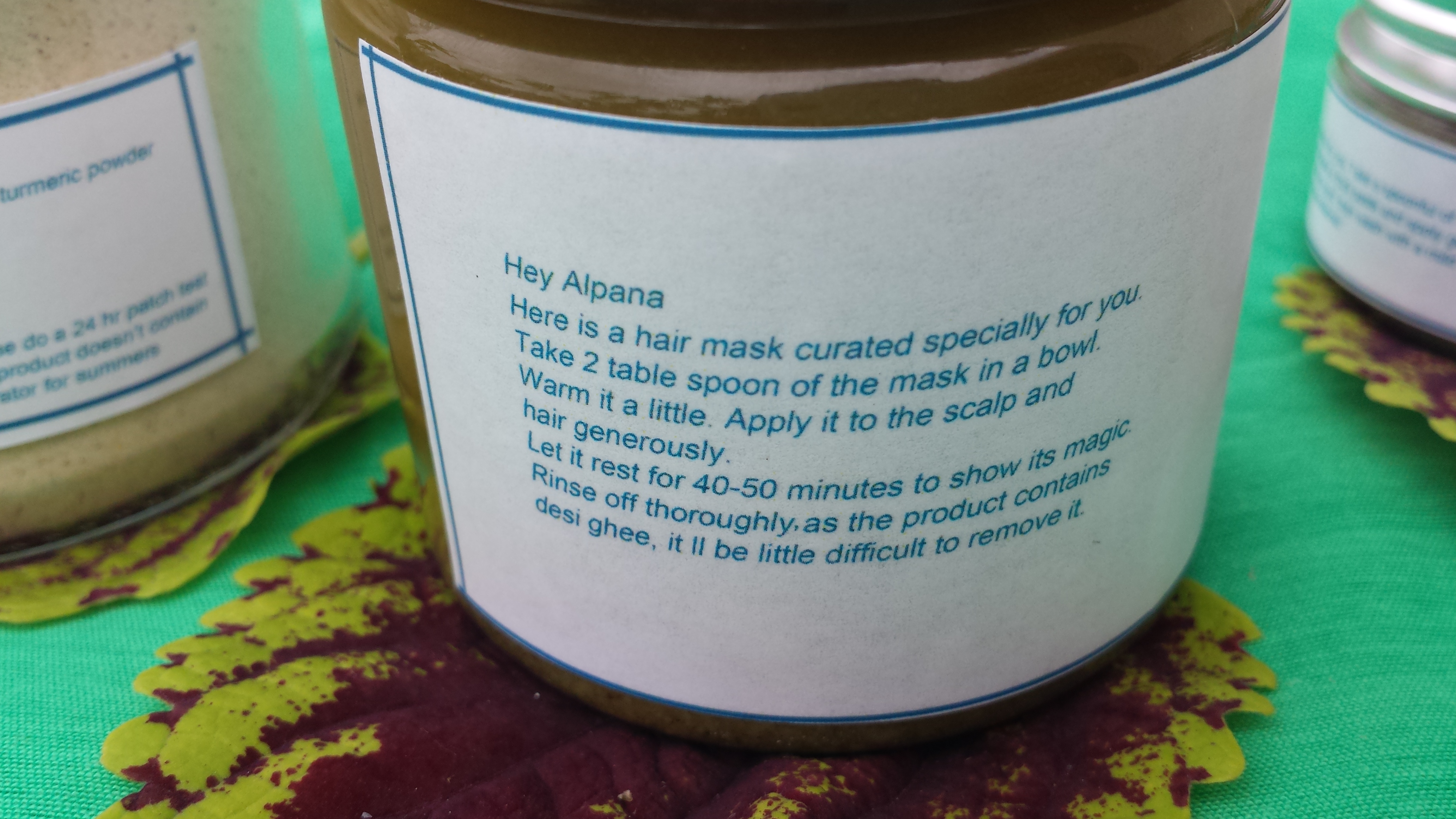 Luckily, I had my sister with me to try out these products and here I am with the reviews for Anga Tatva products. My goodies came to me in a utility pouch. It had 2 Face Pack (one regular size and one trial pack scrub) and Hair Mask (one oil based and one powdered form). All the bottles were nicely packed.
I also did some homework on the ingredients. Few were known to me like Yashthimadhu, Brahmi. My nanaji (mom's dad) was an expert in Ayurveda and few of these herbs I heard from him and read in his published books.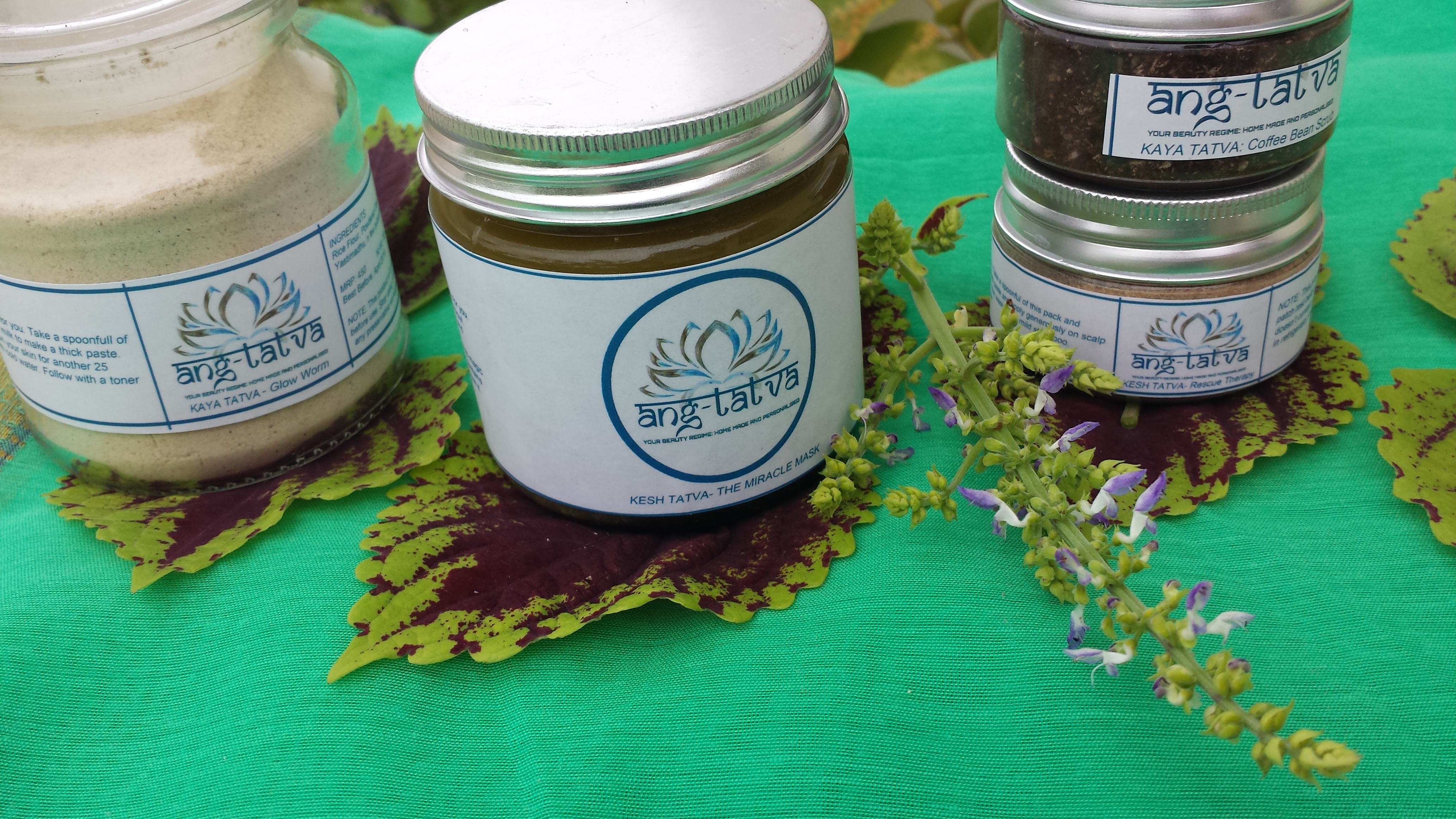 Now, Let's talk about these products
Hair Mask: Kesh Tatva – The Miracle Mask
Ingredients:  
Desi Ghee, Curry leaves, Bhringraj, Liquorice powder, Brahmi leaves, methi and other Ayurcedic Herbs.
I was little skeptical before using the hair mask. Again, this was my first time using any hair mask. But when I read the ingredients and saw Desi Ghee (clarified butter) in it, I dared to apply it.  As the direction says, it will take some time to take the full ghee out of your hair. It did take me some time but left me with a soft hair which is quite rare for my hair type. The herb smell will be hard to get rid off but use a strong shampoo and it will be fine. I could also smell camphor in it.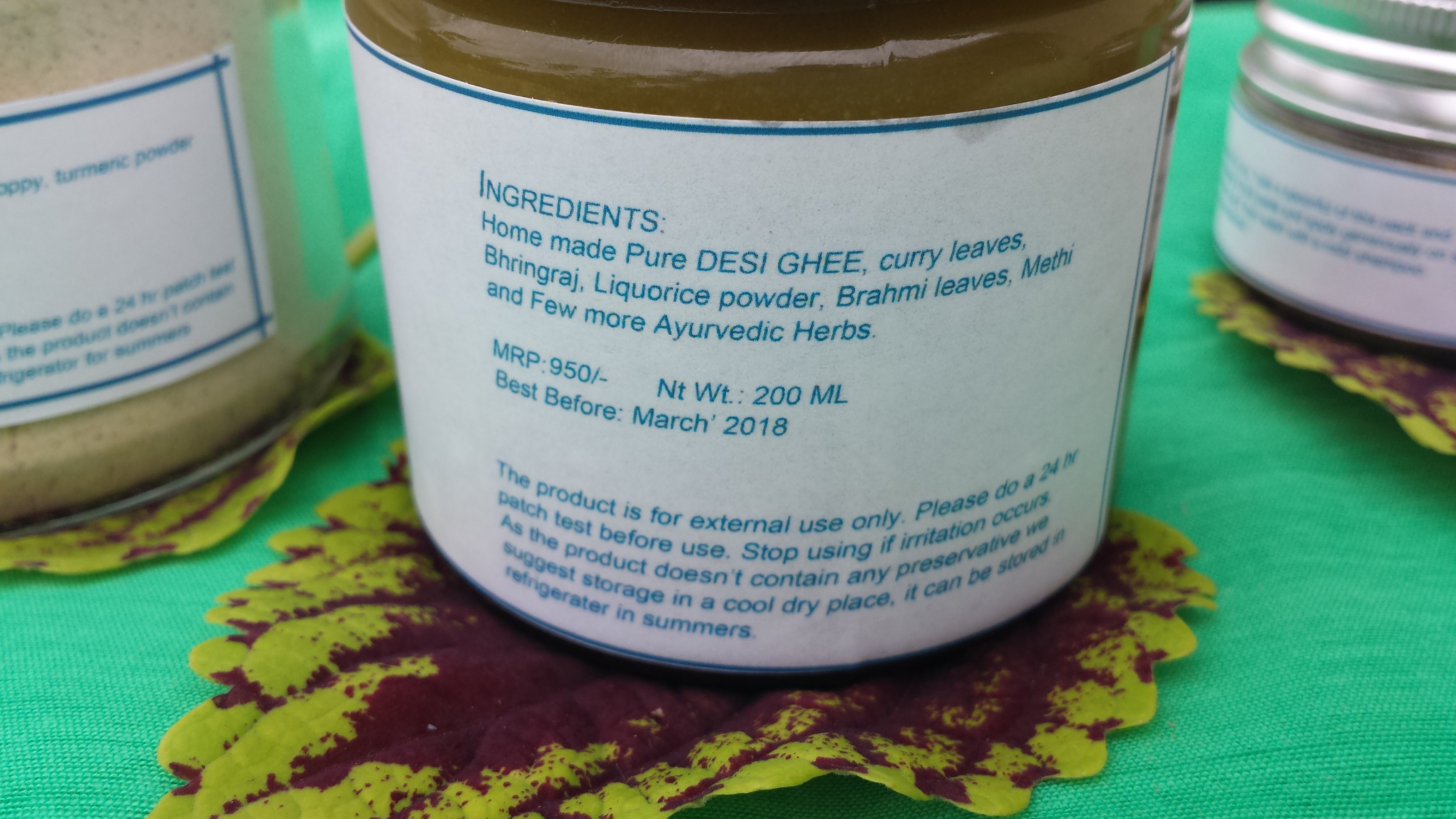 Net Weight: 200 ML
MRP: Rs.950.00
Bhringraj: fantastic ayurvedic herb for hair loss and premature greying of hair. It is considered as the "king of herbs" for hair growth
Brahmi: Along wth hair growth, brahmi has the calming effects which can reduce tension and calm the mind, thus improving the quality of sleep at night.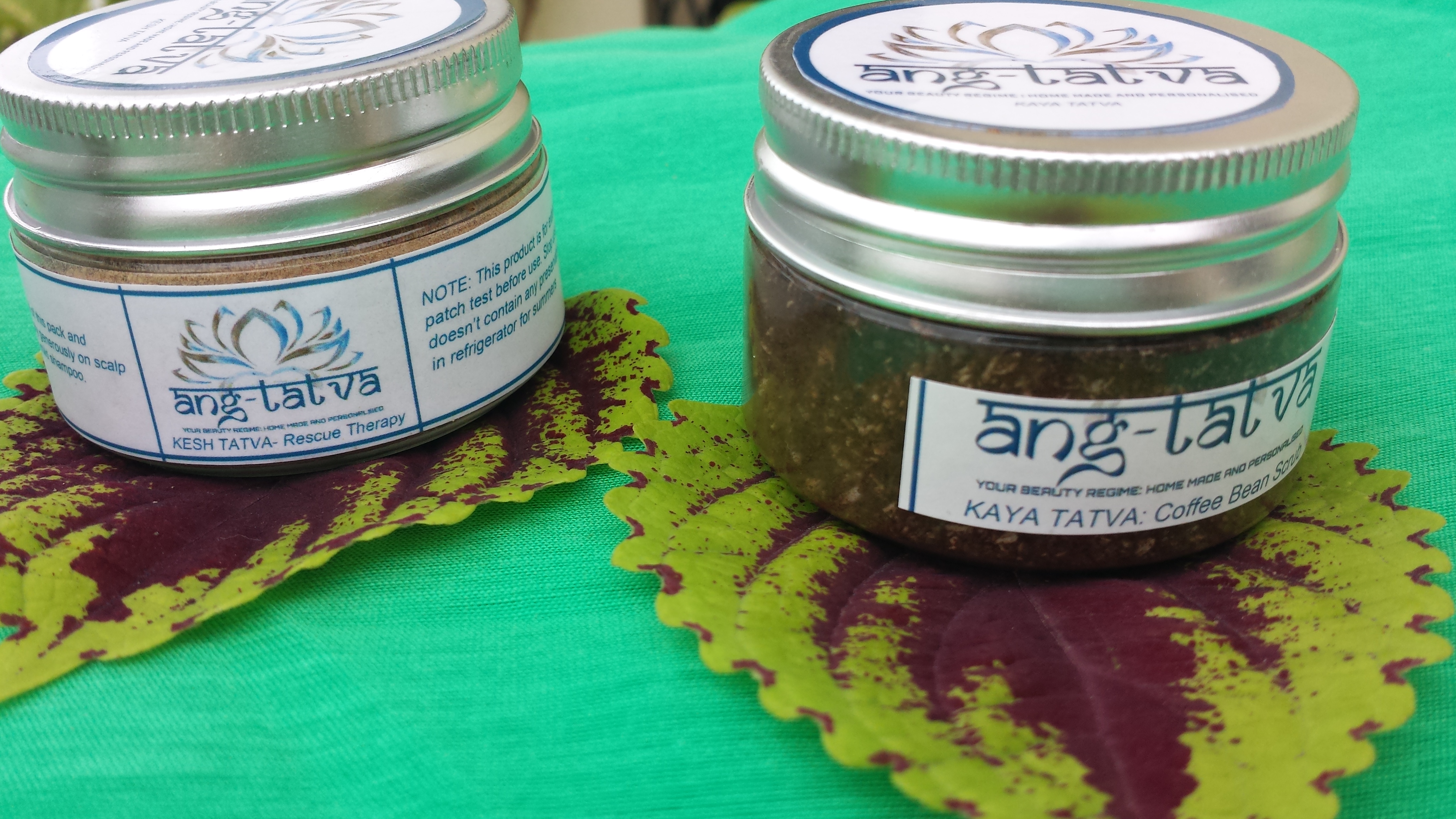 Powder Hair Mask: Rescue Therapy
Application:
Mix it with egg yolk or yogurt to make a paste. I mixed it it with yogurt as I have applied yogurt on my hair in the past and was happy with the results.  I liked the smell of this powdered hair mask. It smelled like Shikakai. I remembered my childhood days when I used to wash my hair with shikakai.
Shikakai literally means 'fruit for the hair.' It has been used in India for centuries as a cleansing and conditioning agent.
My final words:  Since my hair type is waivy and slightly dry, the hair mask worked great on my hair.  My hair were soft in the first application. On the other hand, powdered form is easy to store. And I liked shikakai smell. 
Face Pack: Kaya Tatva – Glow Worm
Alike Hair Mask, Face Pack also contained what we all look for in any facial product.     The application is quite simple.  You just have to mix it with honey and milk. The brush that came with the Face Pack made my job easier and mess-free. The bottle says, leave the pack for 25 minutes and let it do its magic – it did its magic.
Ingredients:
Powdered Oats, Honey, Rice flour, Fenugreek, white poppy, turmeric powder, Yastimadhu and few pulses mix
Yashtimadhu also called Mulethi is not only good for throat infections but also help with skin problems. It helps in skin lightening and pigmentation.
Price: Rs.450
Net Weight: 75 g
My final words: You will see the difference in your skin in its first application. Both me and my sister loved it. My sister got some sun tanning and after its first application, she could see the difference.On the other hand, I got a soft skin.
Face Scrub: Kaya Tatva – Coffee Bean Scrub
I just loved this scrub. You can get a soft skin in minutes right in your shower. You just have to take little bit of this scrub and directly apply on damp skin. Do not pre-soak it with water as it won't give that exfoliation. You can add little water or your body wash and apply. I could feel the softness immediately after I washed my face.
Ingredients:
Coffee, Cocoa powder, brown sugar, shredded coconut
My personal choice: Both the face products were good in their own ways. Both gave me a soft skin but the coffee scrub was quick. When you are in a rush, this is a good option. You dot have to leave it on you face and wait. 
My final words for the brand AngTatva
I must say, Misha is doing a great job in incorporating Ayurveda in the cosmetics and I am sure she will reach new milestones in her endeavor. Now a days, people prefer natural, chemical free products and very soon Ang-Tatva will not need any introduction.
Good Luck Misha and Thanks for letting me review this awesome products.