My daughter loves Vanilla Cake. She prefers freshly baked homemade cakes. Who wouldn't? Vanilla Pound Cake  is the first cake that I have tried when I started baking. One of our family friends bakes yummy cakes and I still have her hand written cake recipe for this cake. I remember her yummy cakes whenever me and her daughter used to have play dates.
I was curious to know the reason behind calling it Pound Cake. Pound cake refers to a type of cake traditionally made with a pound of each of four ingredients: flour, butter, eggs, and sugar. It is believed that the pound cake is a Northern European dish. Presenting you Vanilla Pound Cake.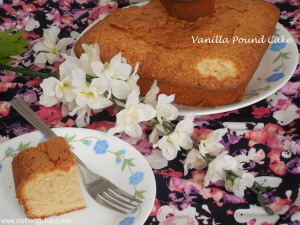 You will need:
2 cups – all purpose flour
2 cups –  melted non-salted butter
½ teaspoon –  vanilla extract/essence
Method:
Pre-heat oven at 350 degrees F.
Sift this mixture all purpose flour. Add sugar.
 Now add the butter and vanilla extract/essence to the sifted mixture, and give it a gentle whisk. Add the eggs and whisk it again.
 Once the batter is smooth and fluffy, pour it all into a greased pan.
 Put the pan into the oven  for about an hour. After the first 45 minutes, keep checking the cake.
 Do the toothpick/knife test. Insert the knife/toothpick in the center of the cake and check if it comes out clean.
Put it back into the oven if it needs baking. Keep checking after every 3 – 4 minutes.
 Take it out of the oven and let it cool for a while before you cut the pieces.
Tips:
You can dust it with powdered sugar.
I have tasted Blueberries Pound Cake. If you like fruits in your cakes, then try it with pineapple, peach, candied fruits.