Frankie is an Indian street food. You can call it an Indian version of wraps or rolls. And I would say assembling a frankie is like filling a blank canvas with your choice of colors. The filling can be as per your taste and preference. I opted for Paneer as the filling for my Frankie. I tasted frankie for the first time during our Calcutta trip. It was a veggie frankie loaded with shredded cabbage, carrot, bell pepper. Since, most of the time we were on the go so frankie came as a filling option. The Making of today's Paneer frankie has started from our flight from India to USA. It was me and my daughter traveling. Our flight was at, I guess, 1:30am. We had light dinner before leaving for the airport. In the flight, they served dinner once we took off. I didn't expect that my daughter would love these frankies so much. She asked me, "Aai, can you make this frankie once we reach home? You can pack it in my lunch box too :). These are yummy!!" Okay, so after few weeks, she asked me to make these recalling our India-USA flight. According to her, the flight people were so good that they served us such a yummy dinner. 🙂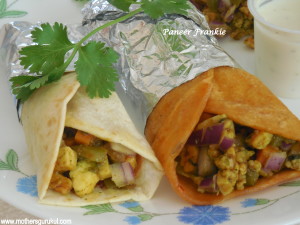 Paneer Frankie is very easy to make. It is perfect for brunch, lunch, dinner, an ideal option for lunch box and road trips. And as I said, you can play with the filling.
Ingredients for Paneer Frankie
Paneer (Indian cottage cheese) – 2 cups (approx.) -available in Indian grocery stores
Onion, Bell pepper, Tomato- finely chopped –  1 cup
Green chili – finely chopped (optional)
Spices: (adjust as per your taste)
Pav Bhaji masala (available in Indian grocery stores) or other dry spices mentioned below in the paneer filling step.
Cilantro leaves – roughly chopped
Green Chutney (cilantro or cilantro-mint) – will be used while assembling
Shredded Lettuce – Optional, will be used while assembling
Tortilla / Chapatti/ Paratha
Let's make the paneer filling first:
Cut paneer into small pieces. You can even crumble it with fingers. I preferred to use it in pieces form.
Heat a pan with oil. Add chopped tomato-onion-bell pepper. Sauté it for few seconds. Now add paneer pieces. Then add all the dry spices. Don't add salt in the beginning. Pav bhaji masala has salt. Adding pav bhaji masala is totally your choice. You can skip pav bhaji masala and use other dry spices such as garam masala, cumin powder, and red chili powder. (you will find all the spices in Indian grocery store)
Let the mixture cook for a while. Let the paneer pieces get the flavor of all the other ingredients. For the frankie, the paneer filling has to be flavorful.
Transfer the paneer mixture into a plate and let it cool for a while.
Assembling the frankie:
In a plate, take one tortilla, spread 1-2 spoons of cilantro chutney in the center or at the side, whichever way is convenient for you to roll the frankie tightly . Top it with 2 spoons of the paneer mixture (lengthwise). You can add the dip to keep the mixture moist or totally skip this step. Instead serve the dip as a side.
If you wish to have onion, tomato, lettuce on the paneer mixture then adds that to. It will add extra crunch to the paneer frankie. Now, bring the two sides together, wrap it with a foil.
Prepare rest of the frankies the same way.
I would prefer to serve my Paneer Frankie with Cilantro-Spring Onion-Yogurt dip.
Cilantro-Spring Onion-Yogurt Dip
Combine beaten yogurt, salt, black pepper, very finely chopped cilantro, spring onions and lemon juice.
Enjoy this yummy, filling frankie with your family!!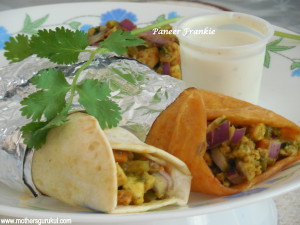 You might also like Veggie Kabab Rolls.