India is a country which is very famous for its rich culture and tradition, fair and festivals. It is a country where people celebrate and enjoy every festival with great enthusiasm.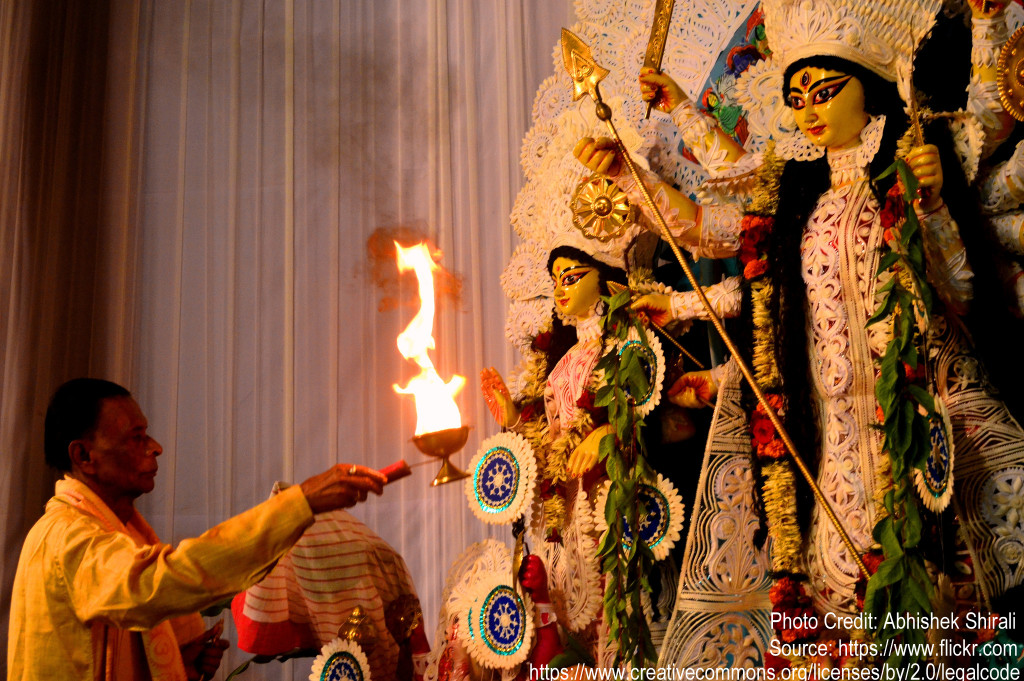 Dussehra festival is one of the most significant and longest festivals of India. Durga Puja and Navratri festival is celebrated by worshiping Goddess Durga and her nine different avatars (incarnations), hence the name Navratri, 'nav' meaning nine and 'ratri' meaning night. For all the nine days that the festival is celebrated, one form of goddess Durga is worshiped each day, and a color is chosen for each day. Those who religiously follow the festival, dress according to the color of the day. This festival falls two or three weeks earlier to Diwali every year in the month of September or October. Dussehra, also called Vijayadashmi is the culmination of the nine-day Navaratri celebrations. It is also a fun time for kids, with so many celebrations and so many things to do. So, instead of just letting them celebrate these festivals as just another holiday, why not let them know the history behind the celebrations.
The concept of Navdurga originates from Goddess Parvati. Conceptually Navdurga is the life phase of Goddess Parvati who is considered supreme power among all Goddesses.
First, let's talk about the 9 goddess of Navaratri followed by mythological stories related to dussehra and a small quiz in the end.
Nine Goddess of Navaratri:
Shailputri
Brahmacharani
Chandraghanta
Kushmanda
Skandmata
Katyayani
Kalratri
Mahagauri
Siddhidatri
While some parts of India celebrate it to mark goddess Durga's victory over the demon Mahishasura, other parts celebrate it as Ram's win over Ravana. Let's read these stories one by one.
In the northern states, Dussera celebrates the homecoming of Sri Rama the hero of the epic Ramayana, after his victory over Ravana, the king of Lanka. Dussehra can also be interpreted as "Dasa-Hara", which means the cutting of the ten heads of Ravana. In vast open spaces, Ramleela, the folk play with music and spontaneous dialogues, retelling the story of the life of Rama, are enacted. Songs are sung to praise of Sri Rama and people in thousands witness this traditional theatre with its embellished costumes, jewelry, makeup and drama. Larger than life figures of Ravana, Kumbhakarna and Meghnadh are burnt on dark nights with fireworks lighting up the sky.
Dussera is also indicative of the end of the exile of the Pandava- princes in the Mahabharata and their return with their weapons to reclaim their kingdom. In memory of this epic story, people in Maharashtra worship the implements of their professions and distribute the leaves of the Shami tree as gold and express their goodwill.
Vijayadashami is also celebrated as the day of victory to rejoice about Durga's triumph over the demons led by Mahishasura. It is essentially a festival in honor of Durga, another name for Parvathi, Lord Shiva's wife. Therefore the famous 'Durga Puja' is carried out on this day. The demon Mahishasura worshipped Lord Shiva and became immortal. He started killing people and wanted to rule over all the gods, as he thought no one would be able to kill him anymore. The gods asked Shiva for help and to save the world from Mahishasura's evil behavior. Shiva united with Vishnu and Brahma to create a female warrior goddess known as Durga. When Mahishasura saw Durga, he fell in love with her beauty and asked her to marry him. She agreed on the condition that he would have to defeat her in a battle. Mahishasura was sure he would win, so the battle continued for nine nights and on the last night, she beheaded him. The nine nights are celebrated as part of the Navaratri festival.
So, these were the stories about this festival. And now, I have a small quiz for you. I am sure, you would be able to answer all the questions.
Can you name the goddess we worship during the nine days?
Navaratri is celebrated for how many days?
Which festival goes on for nine nights?
Who is the demon whose death marks Navaratri? And who defeated the demon?
Who is the demon whose death marks Dussehra?
Which festival that comes right after Navaratri?
I am sure, you all know the answers. So, with this I am concluding today's story time. I wish you all Happy Navaratri and Happy Dussehra!!
Audio link for the story: