Today's guest post is a yummy Marinated Tofu Pulao. I tasted this pulao at a potluck and in first go, I liked the fresh green color. I usually make Tofu Paratha,  Gilled tofu in Stir Fry or in Noodles. Now this pulao has also added to my list.
Marinated Tofu Pulao- Guest Post by Ranjani Ramamurthy
We all know that tofu is a very good source of protein. And due to its bland taste, it is also one of the kids' favorites. I personally do not like the bland taste of tofu. So, after a lot of trial versions, I have finally arrived at this version of tofu pulao, where we marinate it before cooking. Here is the recipe for you.
Ingredients Needed: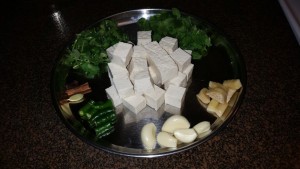 Tofu: 1 pack (extra firm)
Cilantro leaves – 1 handful
Ginger – 1.5 inch long piece (peeled and cut into rough pieces)
Garlic 5-6 pods, peeled (You can also use ginger–garlic paste)
Green chill– 3 or 4 (you can add 2 more for a spicier version)
Cinnamon – 1 in. long piece
Cardamom -1 (Please don't add more, it will override the other flavors)
Onion – 1 medium sized, chopped
Method:
Preparing the Marinate:
Wash the tofu in running water, pat it dry with a paper towel and cut into small 1-inch cubes.
Grind the coriander, mint, ginger, garlic and green chili, cinnamon, cloves and cardamom into a smooth paste in a blender.
Take the tofu in a bowl and marinate the tofu nicely, until all the chunks are coated with the green paste.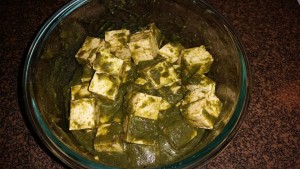 Cover and leave it inside the refrigerator for minimum 2 hours. The longer you marinate, the tastier the tofu chunks are. I usually prefer leaving it overnight. The tofu gets a brown shade to it the next day.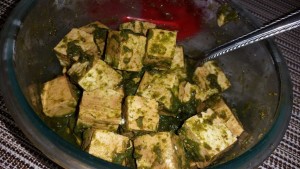 Cooking :
Wash rice 3-4 times in running water until the water runs clear. Soak the rice for at least 30 minutes.
Heat the oil in a heavy bottomed pan on medium flame. You can also do it directly in the cooker, which results as a one pot meal and less dishes to wash.
Once the oil is hot, add the cumin seeds and let it sizzle.
Then add the onions and fry until translucent. This usually takes 2-3 minutes.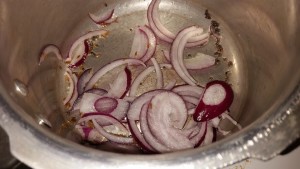 Then add the tofu marinate, giving a good mix, allow all the water to evaporate and the raw smell of the garlic is gone.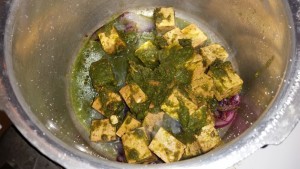 Drain the rice, and add it to the contents of the pan. Mix gently until the rice and the tofu mixes well. Take care not to break the tofu pieces. If you prefer, you can also add a tsp of ghee at this stage to coat the rice nicely, which results in separated rice grains and give a nice flavor.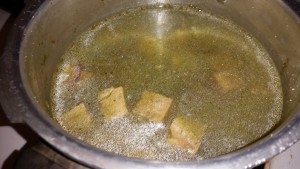 Transfer the contents to the pressure cooker if you are cooking so far in a pan. Add the water to the pressure cooker. Cook it for 1-2 whistles as you do for regular basmati rice. Leaving it to more whistles results in mushier rice. Allow the pressure to settle down before opening, fluff and mix.
Garnish with fine chopped cilantro.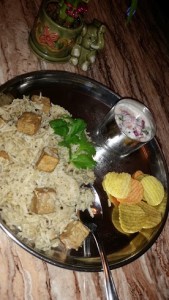 Yummy tofu pulao is ready to be served hot with raita or chips.
Notes:
You can add any veggies like carrot, cauliflower before adding rice and sauté for a couple of minutes. I don't prefer to add, as it over rides the taste of the tofu.
Choose the firm or extra firm variety, to avoid getting mushed with the rice while cooking.
I avoid adding tomatoes as well, as the rice gets very mushy.
You can also use butter instead of oil.
A tasty and easy lunch box recipe for kids. Do the marinating part the night before and stove top part can be done in the morning.
About the author:
Ranjani Ramamurthy is mother of a 7-year old boy. She worked as a database developer for few years before she quit her job to give the time to her son. Ranjani likes to read, write occasionally in Tamil. She also loves to cook, eat, and dance.