With school starting, the biggest question is what to pack in lunch box and how to keep them happy with after school snacks. I believe in variety but at the same time keeping it simple so that you don't have to spend too much time in the kitchen and spend quality time with your kids. Lunch box should be as per their taste and likings as thats the main meal they eat at school. After school snack should not be too heavy. It should just work as filler between lunch and dinner. We want them to eat healthy and they want variety. In this post, I have tried to make your job bit simpler.
I was talking about the same topic to one of my friends whose kid will be starting pre-K soon. While giving her options, I thought of jotting down the points.
Here are few ideas from Mothers Gurukul kitchen..
Frankie: Frankie are great option to pack in lunch box. You can fill the Frankie with variety of stuffings like veggies, paneer, or whatever veggie you have cooked on that particular day.
Kabab Rolls: This is another option for lunch box and snack as well. Check the recipe here.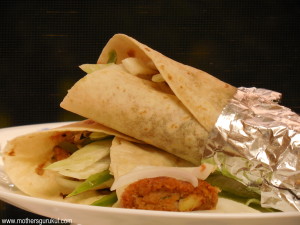 Masala Puri: Another simple yet good option. You can keep the dough ready at night and roll the puris in the morning.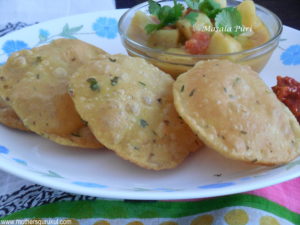 Paratha: Thats the most favorite option for all the India moms. You can add as much variety as you want in parathas. Some of my favorites are aloo paratha (potato paratha), Paneer paratha (cottage cheese paratha), Methi Paratha (fenugreek paratha), Mixed Vegetable paratha.
Grilled Cheese Sandwich: This is every kid's favorite. You can make it healthy and flavorful by spreading pesto on the slices and then adding cheese slice.  You can also add tomato slices or corn and spinach.
Mixed Vegetable Sandwich: I love this sandwich. You can finely chop cabbage, carrot, onion, bell pepper and mix it with grated cheese or mayonnaise. Take spoonful and spread on one slice. Place the other slice on top of it and grill.
Beetroot Cutlets: They are full of nutrients. You can wither send it with ketchup or in form of Pattie for a sandwich. Here is the full recipe for you.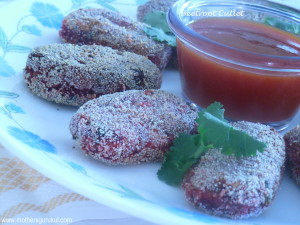 Trail Mix: This is so filling for after school snack. and so easy to make. You can just mix cereal of your choice, some peanuts, some chocolate chips, nuts. and done.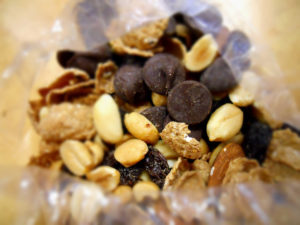 Sprouted Moong Salad: Again perfect for snacking. Sometimes kids don't want too much healthy stuff as snack. To make it fancy you can give them baked pita chips along side.
Aata Ladoo: Aata ladoo are great option for some dessert as they are not hard on stomach.
There are many more options like Pancakes, Idli, Dosa etc. as after school snack or for young kids crackers, pretzels, goldfish can be a good snack option for school. 
So,these were my options. Hope you liked them and have a few more options in your bucket. What are your options?