Khasta means 'flaky'. Khasta Kachori is a flaky Indian snack and is filled with spicy filling. Kachori is supposed to have originated in Uttar Pradesh or Rajasthan. In Delhi it is often served as a chaat.  At some places it is accompanied with a curry made of potatoes and varied spices or even chana (chole). So, you can see that the Kachori is served in different ways in different parts of India. Filling can be any daal (urad, moong), onion, matar (peas). I made Moong Daal Khasta Kachori. This was the first time I ever tried Kachori. We had a surprise farewell party for two of my friends. And the menu was all Chaat item..:). I thought of making kachori. Frankly speaking I have never thought of that making Kachori is my cup of tea. So, to be on the safer side I got frozen cocktail samosa packet as well…:) But when I tried it, and when they started puffing..I had to take pictures and post it so that you can also try these. The process may look lengthy but believe me they are not tough. If I can make it then you too can. You can make the filling ahead of time.They are great to be served as an appetizer, tea time snack.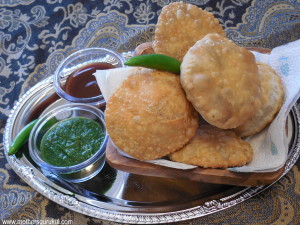 Ingredients:
for crust:
 All Purpose flour – 1 cup
 Salt – 1/4 teaspoon
Oil – 2 tablespoons
Chilled water – 1/4 cup (more or less as needed)
for filling:
Yellow moong daal – 1/4 cup
Fennel seeds – 1 teaspoon : coarsely grind it (saunf)
Coriander seeds – 1 teaspoon : coarsely grind it or use coriander powder
Red chilly flakes – 1 teaspoon (optional)
Mango powder – 1/2 teaspoon
Pinch of asafetida (hing)
Salt – to taste
Oil – 1 tablespoon
Water – 2 tablespoons
Oil to deep fry
Method
To make crust:
Mix the flour, salt and oil.
Add the chilled water slowly, mixing with your fingers as you pour.
Do not knead the dough. The dough should be soft.
Cover the dough and let it sit for at least fifteen minutes.
To make filling:
Grind the moong daal dry, almost to a powder.
Mix one tablespoon of oil to the ground daal in a frying pan and roast over medium heat for about two to three minutes or until daal changes color slightly. Stir continuously.
Turn off the heat. Add all the spices mix well. Let the mixture cool off.
Add two tablespoons of warm water and mix it well. Let it sit for ten minutes and cover with damp cloth.
To make the Kachoris:
Take the dough and knead it for a minutes. Divide the dough in twelve equal parts.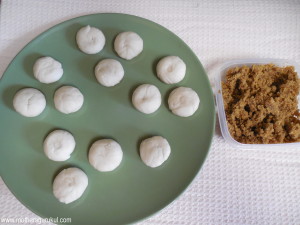 Take one part of the dough and with your fingers flatten the edges and make into 3-inch circle. Leaving center little thicker then edges.
Place 1 teaspoon of filling in the center. Bring the edges together. Do the same with rest of the balls.
Let the filled ball sit for three to four minutes before rolling.
Set the kachoris on a surface with the seams facing up. Using the base of your palm, slowly flatten them into about three inches in diameter. Do not use rolling pin to roll the kachoris.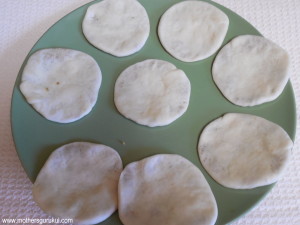 Heat the oil in frying pan over medium heat frying pan should have about one inch of oil.  To check if oil is ready put a little piece of dough in the oil. Dough should sizzle, and come up very slow.
Fry them on medium-low heat. After they start to puff, slowly turn them over. Fry until golden-brown on both sides. If the kachoris are fried on high heat, they will get soft and will not be crispy.
– Serve them with Tamarind chutney, Cilantro chutney.Or
– You can make a small hole in the center, then add these chutneys with some yogurt (make it little liquid), add some sev (Sev is essentially small pieces of crunchy noodles made from chickpea flour paste), some cilantro.