Every state has some food delicacies. Apart from the popular and well known one's, there are few region specific or cast specific dishes too that are not known or say popular in the rest of the state. One such dish is Daalichi Vangi. I never heard about this dish before. But one of my friends made this for a get-together and I couldn't stopped myself from asking the recipe and one step ahead – I requested her to submit it in Guest post section so that you can also make it. 🙂
The reason that she told me behind this recipe is so sweet. It is a very popular dish in Khandesh (a region of central India, which forms the northwestern portion of Maharashtra state) among the cast of Goldsmiths. It is prepared when daughters come to visit her parents after marriage (in Marathi, we call it Mahervashin). To pamper her during her stay, this is one of the dishes that is made. It has emerged from Khandesh to Pune. Pariseema Vispute brings us one of the authentic Maharashtrian dishes which is full of flavors.
Daalchi Vangi – Guest post by Pariseema Vispute
Daalichi Vangi is one of the traditional recipes of Maharashtrians found in some parts of Maharashtra. In Marathi language "Lentil"  is called "Daal" and "Eggplant" is called "Vanga", so we will be shaping daal after some processing in Vanga form, so is the name of the recipe  Daalichi Vangi. Each eggplant is filled with Masala (tasty blend of spices mixed with few other ingredients) which is heart of the recipe. So let's get started with the most delicious and easy to make recipe.
 
Ingredients for Vanga
(for 8 to 10 pieces)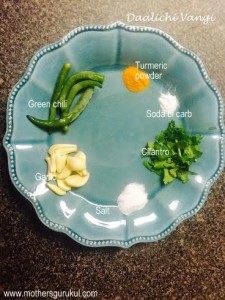 Chana Daal / Split Bengal Gram – 1 ½ cup soaked overnight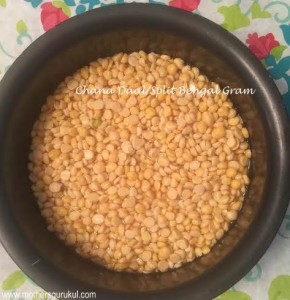 Turmeric powder –  ½ teaspoon
Garlic cloves –  7-8
Salt – per taste
Soda bi carb – 1/4 teaspoon
Cilantro –  ½ cup (chopped)
Green chili – as per your spice level
Ingredients for masala: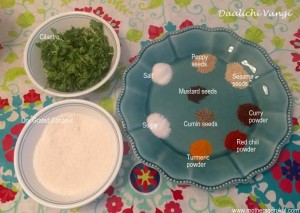 Dry grated coconut – 1 ½ cup
Cilantro – 1 ½ cup
Sugar – ½ tablespoon
Salt – as per taste
Poppy seeds – 1 teaspoon
Sesame seeds – ½  teaspoon
Curry powder – as per taste
Red chili powder – as per taste
Turmeric powder – ½ teaspoon
Cumin seeds
Mustard seeds
Steps for making eggplant shape with the lentil:
Coarsely grind split  Bengal gram which is soaked overnight with green chilies, cilantro and garlic cloves without adding any water.
Add salt , soda bi carb, and turmeric powder.
After mixing well, take a dollop of mixture and shape it like eggplant. Follow the process for rest of the mixture.
Grease the pot with oil and arrange them well separated.
Put it in a steamer or pressure cooker without weight for 15-20 minutes.
Check if all the pieces are cooked from inside with the help of knife or toothpick test.
Give a slight cut in the middle of each piece, where masala can be filled.
Masala preparation:
In a wok add some oil then add mustard seeds and cumin seeds , once the seeds starts cracklings add poppy seeds , sesame and cilantro.
Add turmeric powder, red chili powder, curry powder,salt, sugar.
Add dry coconut at the end and sauté till coconut turns brown.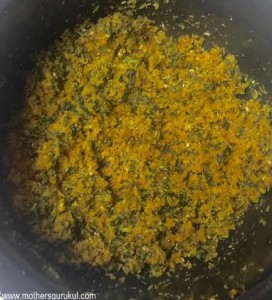 Fill each piece with Masala and enjoy the lovely blend of spices.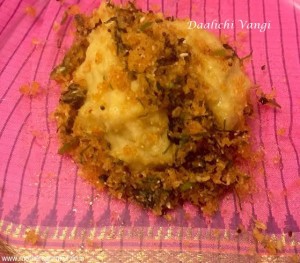 Enjoy this flavorful recipe of Daalichi Vangi!!
Pariseema Vispute, a software engineer and mom of two lovely kids. She says, "I will not call myself a cooking lover but I definitely like trying out new dishes. Knowing my cooking skills, I am sure my mom will be happy to see my first guest post for any website. 🙂 (so sweet of her).  She has recently moved to Houston, USA from Pune, India.