When you see those beautifully painted, vibrant  looking bottles or kettles in any exhibition or at anybody's house giving the whole room a glam look, what is your first reaction? Mine would be wow..they are so beautiful. And my next curiosity would be how delicately they are painted. I love doing craft and especially those which have a touch of Indian designs. Luckily, I got introduced to one such person who is into Mandala and Tribal art. She has turned her hobby and love for colors into a full-time profession. She has her page by the name of 'Rang Potli' on facebook.  Our today's guest is Puja Suri.

Mothers Gurukul: Puja, tell us something about yourself.

Puja: My name is Puja Suri, I did my graduation from Kolkata university in B.Com(Hons). Since childhood I loved colors, I would make random figures and then used to fill it with
colors. It was a different feeling which can't be explained in words. Actually it's in my genes. After I finished my graduation, I worked as a recruitment consultant for 5years, with it also did my M.B.A in (HR) from distance learning. Then I got married and my husband got posting in Khandwa(that is in MP). It had nothing to offer in my field, and after working for so many years sitting idle was very tough. My husband encouraged  me  start with your passion again and relive my childhood. And that's how it all started..
MG: You said the love for colors is in your genes, Puja. So, can I say that your mother was the one who introduced you to the world of colors?
Puja: Yes of course it was my mother who introduced me to colors. I used to see her doing painting and learnt a lot from her. She is my inspiration. Every vacation she used to teach me different mediums of coloring and that is how I developed an inclination towards  colors.
MG: What inspired you to take it as a full-time profession?
Puja:To be very frank Alpana ,I never thought I would ever take it as a full time profession. But after getting married and moving to Khandwa, it was very tough time for me as I
was ideal at home and away from my corporate or any professional work, so just to use my
ideal time, I thought to start it just like a hobby. I brushed my skills and gradually I realized this is something I always wanted to do. I would say it was like a meditation. Today, it turned out to be my full time profession.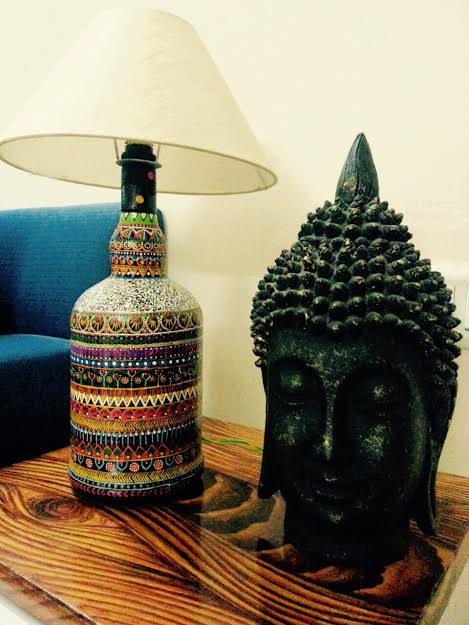 MG: There is lot of ethnic and tribal designs in your paintings. Is there a particular reason of picking these forms of drawings or it's just your interest?
Puja: I was naïve when I started. I experimented with all things nearby and slowly zeroed on ethnic and tribal designs. Indian art is so vibrant with tremendous scope of exploring the different forms. I am trying to promote it through my designs.
MG: Where do you get most of your inspiration from?
Puja: India is full of art. I was inspired to make mandala's when I saw women's making "RANGOLI".
MG: Doing all this fine work with paint brush. Isn't that tough? Have you ever tried any other way of doing it?
Puja: Initially, it was tough. But now I am used to doing it with brush . I am enjoying working with brush and never felt the need to try any other way of doing it.
MG: You share your interest or should I say passion with your sister-in- law. Right? Tell us something about her too.
Puja:  Sure, her name is Priyanka Dutt. Paintings was always on her hobby list. She
got engaged and my brother suggested her to start what she likes doing the most. We make a great team. I am happy that both of us share the same interest and passion towards colors and art.
MG: You have participated in many exhibitions and craft shows. How was the overall experience? Which mode of selling you enjoy more – online or through these shows?
Puja:  It's an awesome feeling. If I have to choose from online or shows then I would say I enjoy through the shows, because we are able to personally interact with customers. When they like our products they are surprised to see that it is made free hand. Seeing them admiring our hard work is an amazing feeling. It also helps us to discover new ideas. In other way it helps us to get better.
MG: Your partner is also your sister-in-law. How does it feel to have a family member as a business partner? What would you like to say about your team as a whole?
Puja: I was so happy when I discovered that I shared my interest with my sister-in-law. We learned new techniques together. Although, we have been working on different things
but have had each other for moral and professional support. We go through every design, every color combination together for all our products. Both of us derive inspiration from different things, but end of the day we apply it together on our products. We love doing,what we are doing now.
MG: Puja, there is a saying "Creativity is allowing yourself to make mistakes. Art is knowing which one's to keep." Do you think this entire journey till now has contributed to your growth as an artist?
Puja: Yes definitely, and still its an ongoing process. Every day is learning, we make mistakes and learn something new.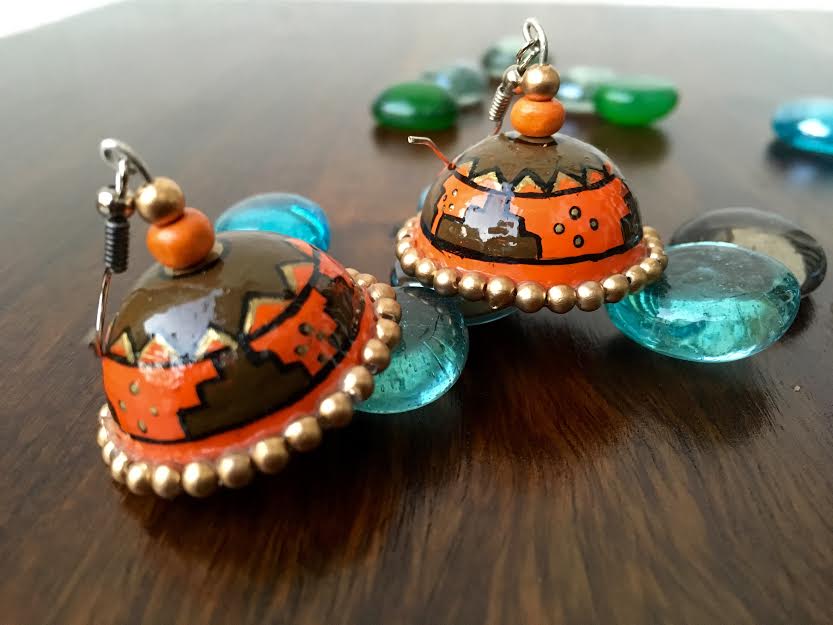 MG: What's was your recent project?
Puja: Recently, we had our exhibition in first week of February. It's called "Sula Fest".
MG: Great!! Best of luck for your upcoming exhibition. It was nice talking to you.
Puja: Thank you Alpana for giving me this opportunity..