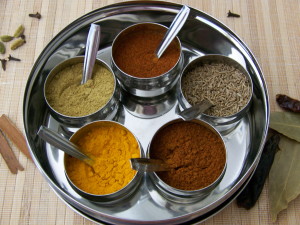 'Rasoi' means 'Kitchen' in Hindi. In Vedic period, when students lived in Gurukul, preparing the meals on their own was also the part of the training and daily routine. With time, the concept of ancient Gurukul has been lost but the hostels of modern times, in a way, reflect this age-old notion.  Also, for cooking, formal culinary schools came into existence. Whether it is olden days or today, the of kitchen or rasoi is the heart of every home. I have found one quote- 'Kitchens are made for Families to gather.'
      Every mother is the kitchen goddess "Annapoorna" (goddess of food).  Not only she performs her primary responsibilities of looking after her kids, making sure that they are progressing but also keep herself updated in terms of what's happening in society, she is a part of different groups, actively involved in her kid's school and other activities, looking for different options and ways to keep her family happy and healthy. When we talk about health, the first thing that comes to our mind is healthy food that enables healthy living.
       Life is busy for everyone today. We all look for quick fixes, shortcuts, time saving techniques. With this thought, I am adding a new facet 'Mother's Rasoi' to Mothers Gurukul.  Earlier, I had a separate food blog but after starting this website, I thought of bringing everything under one roof.  This will be easier for me to manage and share with all of you.  I will be sharing the recipes with you that I have tried and learnt from my mom, friends and other sources.
     To clarify, I am not changing Mother's Gurukul into a Food Blog.  I just want to share all those areas and things where every mom is actively involved and I think food is definitely one of them.
As always, any suggestions or comments are welcome. If you have any recipe which you would like to share through this site, please contact me.