Nutella Marble Pound Cake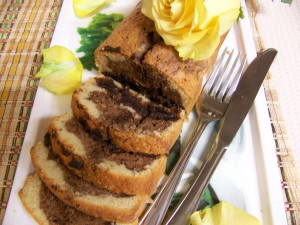 First time when I made this cake it was for one of our impromptu pool side pizza party. All my other friends were bringing some snacks/salty snacks. So I decided to take something sweet. For a Pizza party, I thought cake would be a good option but didn't want to make the regular chocolate or vanilla cake. Something different but tasty..hmm…I had Nutella jar in my pantry. So, started searching for Nutella Cake recipes and found this one on Italian Food Forever. Since then, this has become my daughter's favorite.
   Nutella can do wonders. Really..it does. This thick chocolate-hazelnut spread when added to any cake you just can't stop eating..:) It's that tempting. This cake is a must try cake. Get your kids involved. They would love to measure Nutella and later lick the spatula.. :)If you have any unplanned tea party, you can serve this to your guests. Or may be for your kid's next play date.
   Here, I am writing the actual recipe. But in picture the cake that you see, I just cut the ingredients by half and baked it in a loaf pan. It took the same amount of time.
Ingredients: (as per actual recipe)

1 1/2 Cups All – Purpose Flour
4 Large Eggs  (at room temperature)
2 Teaspoons – Vanilla
1 Teaspoon- Baking Powder
1/2 Teaspoon- Salt
2 Sticks Butter (1/2 Pound) Softened
1 1/4 Cups- Sugar
1/2 Cup- Nutella Spread
3 Tablespoons – Unsweetened Cocoa Powder
Directions:
Preheat the oven to 325 degrees F and lightly grease a 9 X 5 inch pan (or equivalent sized ring pan).
In a large bowl, beat together the butter and sugar until fluffy.
Beat in the eggs one at a time and then add the vanilla.
Mix together the flour, baking powder, and salt, and add this to the egg/butter mixture in three batches, beating just until mixed.
Remove one third of the mixture to a separate bowl and stir in the Nutella and cocoa.
Pour half the remaining pound cake mixture into the prepared pan and, then add the Nutella mixture on top, gently smoothing it to cover.
Top with the remaining pound cake batter.
Use a knife and swirl the chocolate batter through the pound cake, being careful not to not over mix.
Bake the cake for about an hour and 10 minutes or until a cake tester comes out clean.
Cool for 15 minutes then remove from the pan, and allow to cool at room temperature before serving.
Store in an airtight container for 3 to 4 days.