Vatli Dal is a traditional dish from Maharashtrian cuisine prepared during Chaitra month (first month of Marathi calender) which means Grounded Dal. This snack is made by soaking the Chana dal or Bengal gram overnight in water and then grounded with ginger and green chilies; finally seasoned with some curry leaves, mustard seeds, turmeric powder and chilli powder. It is slightly towards the dry side. It can be served as a tea-time snack. Chana dal is a type of chickpea that is rich in proteins, fat, calcium, iron and vitamin B and is an ideal source of carbohydrates.
  During Chaitra month, it is usually served with Karanji or Gujia. Karanji is a Marathi word for Gujia (festival dessert that looks like shell).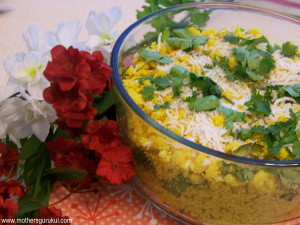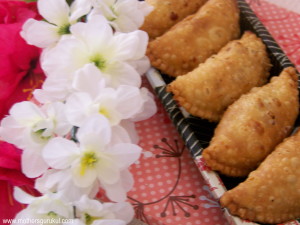 VATLI DAL:
Usually, Vatli Dal is made my soaking the dal overnight, then grounded and then the cooking process starts to make it dry. In this recipe, I am sharing an easy version of this dal.
Ingredients:
Chana dal- 2 cups (soaked over night)
Ginger-Green chilli- crushed (as per your spice level)
Turmeric powder
Red chilli powder
Salt-  to taste
Sugar- to taste
Kairi (raw mango)- cube size pieces
Cilantro- for garnishing
Shredded coconut- for garnishing
Lemon juice- in the end
Seasoning:
Oil
Curry leaves
Mustard seeds
Asafoetida – a pinch
Making of Vatli Dal:
Wash and soak chana dal. Drain excess water and grind it coarsely with green chili, ginger.
Transfer it into a vessel used for pressure cooker. After 5-6 whistles turn off the heat. DOn't forget to cover it with a lid on the vessel.

Once the dal cools down completely, with your fingers start crumbling it. It will look like this.
At this point, I prefer adding turmeric powder, red chilli powder , salt, sugar to it. This will coat your dal uniformly. You can add more later if you want.
Heat oil in a kadhai/wok/pan. Add mustard seeds, curry leaves, asafoetida. Once the seeds starts crackling, add the dal mixture. Sprinkle some water all over the dal mixture. Let it cook for few more minutes. It won't take that long as your dal is already cooked in the pressure cooker.

Add lemon juice. Garnish it with cilantro and shredded coconut.
ENJOY!!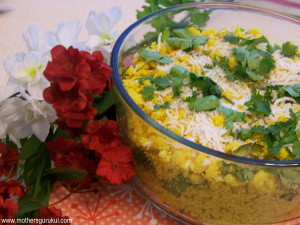 Don't forget to check Karanji/Gujia recipe in the next post.