Culture grows on the vine of tradition
  (Before I write, just to let you all know that I have written this article last year for Austin newsletter after Makar Sankrant. So, I am posting the same with some changes. Hope you will like it.)
      One of my previous articles "Be Their Role Model" talked about how even our small day-to-day gestures, activities can be a learning experience to our kids and how much importance these gestures, activities give to how we talk-react and deal with any situation. Usually, I like and prefer to associate my chosen topic to my personal experience.
      January is the Makar Sankranti month. It started from January 14 and will be till Feb 6. We all celebrate this festival in our own traditional way. In Maharashtra, we make Gulachi Poli (flat bread stuffed with soft/shredded Jaggery mixed with toasted, ground Til- sesame seeds), Khichadi, Moong daal wada, Kadhi on Sankrant day i.e January 14. We have a saying 'Til Gul Ghya God God Bola' meaning 'accept this til-gul and speak sweetly'.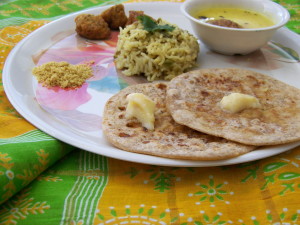 Last year when I have written this article, my daughter was 4 years old. She was at the right age to remember these small things. As they say in Parle-G commercial "Bachpan Se Bada koi School Nahi, Curiosity Se Badi Koi Teacher Nahi". Like any other kid she was also curious and surprised but quite confused that why everyone is saying 'Til Gul Ghya God God Bola'. She asked me is it because we are eating Gulachi Poli and its sweet? I told her that we have Sankrant in the beginning of the year so by saying this it gives us a chance to remember that we should never hurt anybody's feeling, always try to speak sweet. Second part of this festival is Haldi Kunku or Haldi Kumkum (literally meaning turmeric and vermillion). Every year I try to have at least a small Haldi Kumkum at my place. All this is to maintain and to let our daughter know about the traditional practices associated to this festival. This year also, I am planning to have Haldi Kumkum. My daughter has asked me for not doing it when she is at school. She wants to be a part of it…:) How can I say NO to such a sweet request?
      Sometimes, I feel living outside India brings us closer to our culture. We put extra efforts in bringing India into our homes during these festival seasons. We do it with lot of dedication, devotion. Again going back to my personal experience, I grew up in Uttar Pradesh. If my parents hadn't put their extra efforts in maintaining Maharashtrian culture, tradition at our home then I don't think it would have been possible for me to write on this topic.
      For example calling kid's friends on such occasions as we do on birthdays and involving them in deciding what to do, picking gifts will help them to remember the occasion and the customs related to it. Every year they will look forward for this time of the year to come. What else could be more satisfying for us as a parent living here when our kids remember and show their enthusiasm and interest in these small things and expects just a tiny bit of encouragement from us for their involvement.
      Everyone is busy today. Quite often we get to hear people saying that we don't get time to do all this traditional things. We want to do but don't know how. Not as a comment but these are few words that I have recently read in a book. "We all have 24 hours; it's not the time that matters but the activities that we get engaged into during these 24 hours. We have to prioritize them. If we really want to do something then it's not that difficult to spare some extra minutes out of our daily schedule to implement and execute it." Little bit of planning and an inner zeal are the only two requirements for giving our kids this great gift of tradition.

Believe me, they enjoy it, they really do…