(This article was first posted in the Parent column of Austin South Asian newsletter)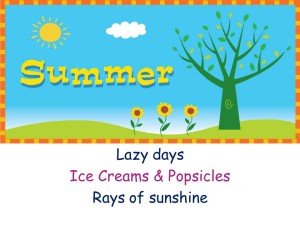 My daughter told me the other day, 'Our teacher said after 22 days, we will go to a new class.' She was very excited about it. For me, it was a like a message that now I have only 22 days to think for options to keep her occupied during summer break.

    When you ask any mom (parent) if she is excited and happy that school year is almost over. She seems in a dilemma-hmm..yes..I am happy that now I don't have to wake up too early or I do not have to run after my kid because clock runs too fast. But..?? Yes the big 'B' question. Every year whenever we are close to year end, it leads to the question of how to fill the days with fun things! Summer break for 3 months is definitely a long time.
     It's hard to give a concrete solution or a summer break agenda. I guess we all do trials while counting days… jokes apart. But we do look for (not some) various options to keep our kids occupied. Even with summer camps and hobby classes, there is lot of extra time left. So here is something from my options palette:
Maintain a holiday routine: This doesn't mean that you have to set up a proper school type routine. But do try to set a study time out of their daily schedule.
Teach them any new language: Take this time as a wonderful opportunity to teach them your language (if you have any). 3 months time is more than enough to encash this opportunity. At my place we try to practice Hindi and our mother tongue (reading and writing) more during my daughter's break.
Instead of looking at summer as "time off" from learning, approach summer as a time for fun hands-on, experiential activities and projects that may not be possible during school year.
 

Take that craft and scrapbook box out: Make greeting cards (for holidays, family).

 

Time in the kitchen: Cooking together unfolds lot of new and unknown concepts. Sometimes Math and Science concepts or sometimes knowing other cultures.  For young kids (or almost ready for school) introduce numbers and objects through cooking activity. You can also plan play dates. Children develop important social skills by spending time together. I remember my daughter once had a play date and we baked cookies. She and her friend were so happy eating their self-baked cookies. Check out the Ice Cream recipe written in the end of the post. I came across this recipe on Food.com. My daughter made this kind of an Ice Cream at her pre-school and she had fun eating it directly from the Ziploc bag.

 

Read together: Set aside a time each day for family reading time. So this summer, set a target of at least 20 books. Give you child something as a token for achieving the target. You can also sign up for summer reading programs. This is a wonderful opportunity for preschoolers and pre-kindergartener to dig into reading.
Last but not the least,
Spend quality time together: Time flies. Do not overload you kid with too many classes. I would say a combination of classes along with home activities can make these 3 months a good experience. Summer break should be a time for some downtime and family fun, so remember to keep things low-key, simple, and relaxing!

Home made Ice Cream:
1 cup half-and-half
2 tablespoons sugar
1/2 teaspoon vanilla
2 sandwich ziploc bag
2 gallons ziploc bag
6 cups crushed ice
2/3 cup rock salt
Put first 3 ingredients in the smaller Ziplock bag and seal bag (Make sure it is tightly closed!). Put ice and rock salt in the larger bag and then add the filled small bag. Seal the large bag.
Squeeze bag until ice cream is thickened, about 10-15 minutes.
Remove small bag, unseal, and eat with spoon.
(This article was first posted in the Parent column of Austin South Asian newsletter)