HAPPY VALENTINE'S DAY!!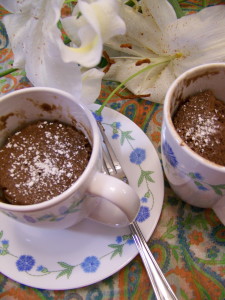 2 min. Maggi noodles always brings us back the memories of India. We all attach some comfort feeling with a hot bowl of Maggi..:) After this quick comfort food how about a quick dessert? We all would love to have some quick recipes anytime. How about a Cake? This is going to be my today's dessert. Its been so long that I have made this cake. I guess last time when I made it, my daughter got 2 shots so she was kind of fussy and to cheer her up & distract her from the pain I asked her if she would like to help me.

     Looks wise it may not look that fancy as we will be baking it in a coffee mug but it tastes really good. If you have the patience to transfer it into a bowl or plate and then eat it, well and good but I won't mind eating it directly from the cup. After all its a Mug cake. We are not going to serve it in a cup..:) Have it with Vanilla Ice cream. Its not a molten lava cake but who cares if it tastes good and above all of that when its a handy dessert that you can make anytime.
Ingredients
4 tablespoons – All purpose flour
4 tablespoons – Sugar
1 – Egg
1/2 teaspoon – Baking powder
1/2 teaspoon – Cocoa powder
3 tablespoons – Oil
4 tablespoons – Milk
2 tablespoons – Nutella
Method:
Mix the flour,sugar,egg,baking powder, oil,milk and nutella in a bowl and fill half of the coffee mug with this cake batter.
Cook in high power for 1+1/2minutes – 2 minutes. Do the knife testing. If needed cook for another 1 minute (start with 1/2 minute). Do not overcook, else your cake will turn rubbery.
I was able to  make 2 Mug Cakes out of this much of batter.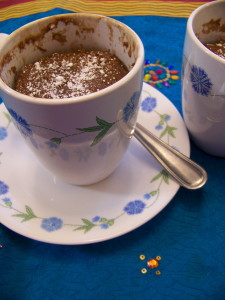 ENJOY this quick dessert!!