Karanji is a Maharshtrian dessert prepared during festival season mostly during Diwali. Karanji is the Marathi word of Gujia. It is filled with Khoya or Coconut. I made the filling with coconut.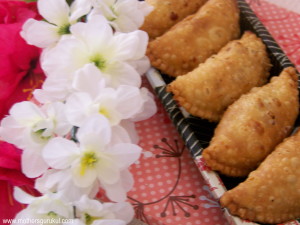 For filling:
Desiccated coconut- 1 cup
Sugar- 1 cup
Sooji/ Semolina- 1 tablespoon
Cardamom powder- ¼ teaspoon
Raisins- optional
Chironji- optional (chironji is a tiny almond-flavored dried seeds of a bush called Buchanania lanzan)
Milk- ½ cup (approx.)
For outer covering:
All-purpose flour/Maida- 1 cup
Sooji/Semoline- 2 teaspoon
Oil for dough and for frying
How to get the shell shape: Karanji mold/karanji cutter or use a fork.
To prepare the crust:
Mix together maida and sooji. To it add oil enough to coat the dry mixture. Mix it well. Now knead it into a soft dough using water. Be careful while adding water. Cover it with wet cloth and set it aside for at least ½ hour.
To make the filling:
Dry roast the coconut and sooji separately. Once it cools down, add sugar. To it add cardamom powder, raisins, chironji. I don't like when your inner filling starts coming out with every bite. So, I add milk to it slowly. Once you see the mixture is starting to get wet (not sticky), stop adding milk.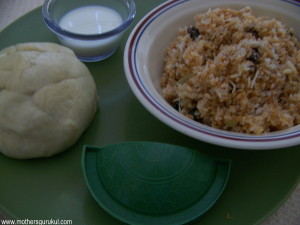 Preparation of Karanji/Gujia:
Before start making Karanji, first once again knead the dough for added softness. Divide it into balls and again cover it with wet cloth.
Roll the ball into a small circular poori. Rub the mold with edges with few drops of milk. Place this rolled circle on to the mold. Put little bit of coconut mixture on the first half. Fold it over the second half. Trim off the excess dough. Repeat the same process for rest of the balls. Do not forget to cover the prepared karanji with wet cloth.
If you do not have the mold, then after rolling the ball, place the rolled circle into your palm or on your rolling surface and follow the same steps till the folding part. Now with the form, mark the edges. It will give the same impression same like the mold.
Fry the prepared karanjis  in hot oil on medium heat, turning them continuously till they turn to a golden brown color.