Stories about fairies, dragons always interest kids. It takes them into a totally new world. As a parent, we stress over the need of reading but at the same time, we want to pick such books that will improve their vocabulary, give them something to think about after the reading is done. "Adventures in Farland" is a perfect combination of vocabulary humor and teachable moments. Written by Moshank Relia, this book is filled with funny and interesting characters, and a lively story that every child would love to read.
Title: Adventures In Farland
Author: Moshank Relia
Genre: Children's Fiction
Age group: 6-15 years
Synopsis:
Stories about Farland and it's magical world come true when Mira Rawat, a 7 years old gets an invitation from Princess Harmonica to attend the New Moon Party. She had heard many interesting stories about Farland and the new moon party from her mother but never thought that she would be able to attend one. This is not going to be just a fun trip for Mira but a journey full of adventures.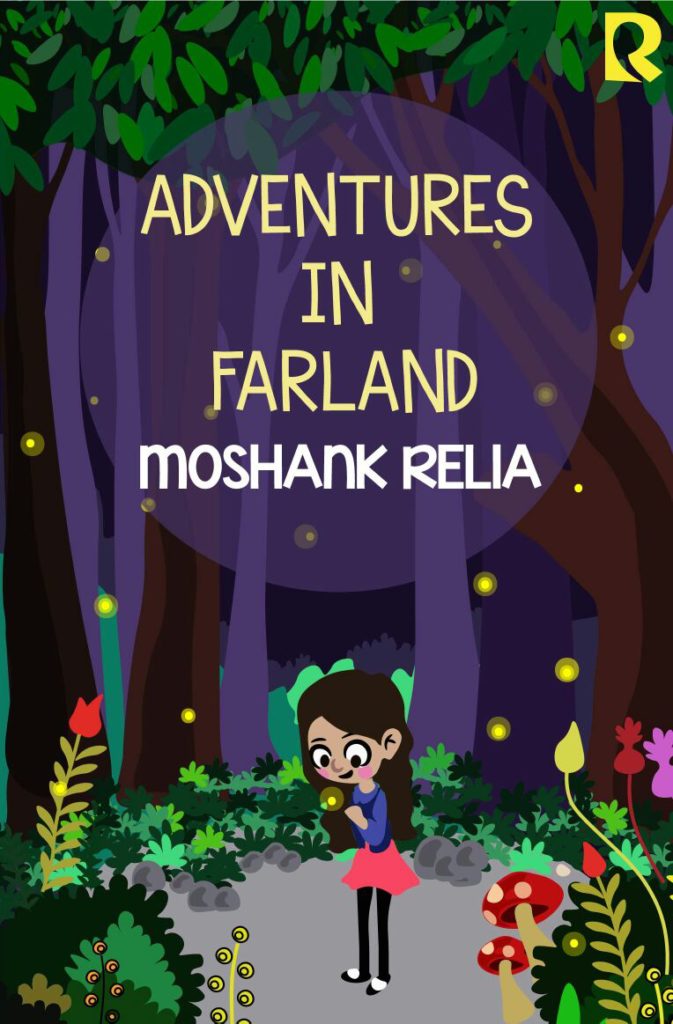 "Adventures in Farland" in my words: 
Adventure in Farland is a story of a beautiful 7 years old Mira, and her two friends Bira and Vira, potbelly twins, who does nothing but eat chocolates from the time they wake up to the time they sleep. Mira has heard many stories about Farland from her mother. To her surprise, her wish of visiting this magical place that she has only heard in stories come true when "Bushy", a character from the stories of Farland her mother told her, greets her with an invitation from the Princess Harmonica to visit Farland and attend the New Moon Party.
The journey to Farland itself starts with an adventure. Bushy turns her friends into rats so that they won't disturb anyone in the party. A special plane with the best pilot of Farland named "Starhead"  is sent across to pick them up and drop them back before daybreak. Could Mira ask for more? But she didn't know that the journey is not going to be an easy one. The first adventure comes when her plane breaks down and lands in the Lost-forest that looked ghostly in dark. Windman tells Mira that the queen of witches has come to free the dragon of Underhill on Farland and destroy it. To save Farland, Starhead leaves Mira in the forest with the instructions to find "Mastiff", a strong dog. Whatever is happening is beyond Mira's understanding and it makes her quite frightened. But she has no idea what's coming next and that she is going to play an integral role in saving Farland.
So, what more Mira has to encounter? Will she be successful? Who all she is going to meet in her journey? What happens to Bira and Vira? And most important will she be able to meet Princess Harmonica and attend the New Moon Party? To know all this, you have to pick up the book.
My Review:
The author has weaved the story keeping the feeling of a child in mind. He has done a favor to all the characters in the story by giving them a unique personality and something interesting. Mira has been portrayed as a sweet girl who is full of life and loves her friends. Despite of tough situations, Mira sets an example of courage and bravery. It teaches young readers not to loose hope and courage  even in difficult circumstances. It also conveys a message that nothing is impossible if we work as a team.
Author has done a wonderful job in keeping the sentences short. Language used in the story is simple but at the same time readers will be introduced to few new words. The book is not at all verbos book and it holds the grip till end. Credit goes to the author's imagination and the characters he had built, such as the Starhead pilot, Mira meets who has a head shaped like a star and shines brightly. Bushy whose head has a bush instead of hair. Children will also find some funny expressions like khee-khee, ha-ha, ho-ho used in describing the plot as needed. Overall, everything is in balance. The only thing I would have liked in the Adventures in Farland is little more colored pictures. Children love to see pictures whenever they think about magical world of fairies, giants or mermaids. This could be a perfect gift for kids.
About the Author:
Moshank Relia is a graduate in English literature. He also holds a diploma in photography and has worked as a fashion photographer. His love for adventure, his affection for kids and his wide-ranging creative experiences drove him to write children's  fiction.
I am thankful to Moshank Relia for considering me to review "Adventures in Farland" and for sending me the manuscript of this book well in time. I wish him all the success in in writing career.
Disclaimer: This is a sponsored post but the views and opinions expressed here are my own.
I am taking part in The Write Tribe Problogger October 2017 Blogging Challenge
#writebravely #writetribeproblogger