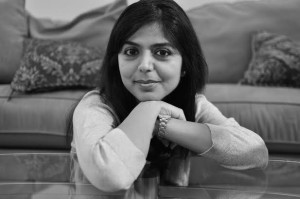 I wrote one post on Hindi Writing and I was very happy to see the response. Today's post is somewhat on the same line and topic. Yes, Learning Hindi. We all will agree on the fact that it is a challenge to teach our kids Hindi on a foreign land. Parents have to make a very sincere effort if they really want their kids to know Hindi. Thinking on the same grounds, I would like to introduce you to a Mom just like you and me. She is the founder of HindiGym, a San Francisco based organization which aims at providing all the required mediums to the kids in learning Hindi in a much easier and fun way. What a great effort. Isn't? Meet Aarti Chandnani- author, founder and creator of HindiGym.
While talking to Aarti about her work, I realized that she is very positive and enthusiastic in spreading the language and she is making commendable efforts in that direction. This post will not be like a typical Interview. It was Aarti's idea to give more focus on HindiGym rather than herself.  She herself has designed the entire curriculum for different age groups. Another attribute that makes HindiGym different from other Hindi classes is it offers 'Parent & Me' class for young kids. This gives the parents a chance to be on the same page with the teacher.

More about Aarti Chandnani: Aarti Chandnani is the person behind this whole idea of HindiGym. She was born and raised in Mumbai, India and is currently living in the USA with her husband and two kids. Being an immigrant mom, Aarti wanted to teach her kids their native language. But finding right learning material was the challenge. As they say, where there is a will, there is a way. Through HindiGym, Aarti Chandnani found her way not only for her kids but for many such parents who want to teach their kids Hindi.
Let's see what Aarti has to add about her venture…
Why HindiGym?
I created this website in January 2008 to help other parents, who are trying to teach their kids Hindi; after realizing the lack of really good materials. I not only wanted to make learning Hindi fun for kids, but rather also for parents and teachers to find such materials to teach Hindi. Sure there are tons of websites and resources out there that provide Hindi materials, but none of them focus on actually being able to write or read Hindi. Most of them are either story books or some animated CD/DVDs with games, songs, etc. Hence my goal is to create various materials and worksheets that are at par with the other "ABC" or "English books" that our kids are used to. I decided to choose graphics which are not very ethnic, but rather appealing to young kids. All activities, worksheets are geared towards little kids, so they can have fun while they learn!
HindiGym makes Hindi learning fun for kids of all ages by providing kid-friendly, engaging and effective materials to learn Hindi. HindiGym was born from the need of a mom to teach her children their native language. Unable to find Hindi learning materials that the kids could relate to led to the inception of HindiGym. HindiGym provides numerous free worksheets that schools all over the world use in their curriculum. HindiGym also publishes several workbooks that are bilingual (Hindi and English) with transliterations that make it easy to read. All books are colorful and graphically rich with illustrations that kids love. HindiGym's monkey character "LaLa" anchors the workbooks.
HindiGym also offers Hindi classes in San Francisco. A 'Parent and Me' class for pre-schoolers and a 'Hindi in Action' class for older kids. In both classes learning is achieved through songs, stories and games. "Make it fun for kids" is HindiGym's approach which makes them highly popular.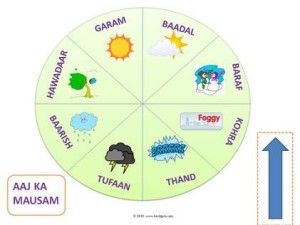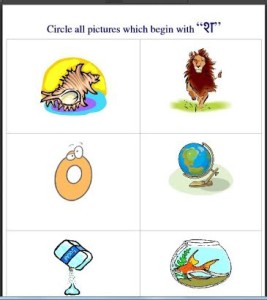 Besides workbooks and classes, HindiGym largely remains as a free resource for teachers and parents. HindiGym offers classroom charts, printable board games, e-books and worksheets all available for free on the website so that you can print and get started in minutes with your kids. HindiGym also hosts a community section which provides a platform for other teachers to share their work with the world.
Aarti concludes her chat with us with the hope that everyone seeking Hindi-learning materials visits HindiGym and checks it out?
I wish Aarti Chandanani all the success in her journey that she has started of providing the parents a chance to stay connected to their roots and passing on the same to their kids through introducing them to their native language as the first step.